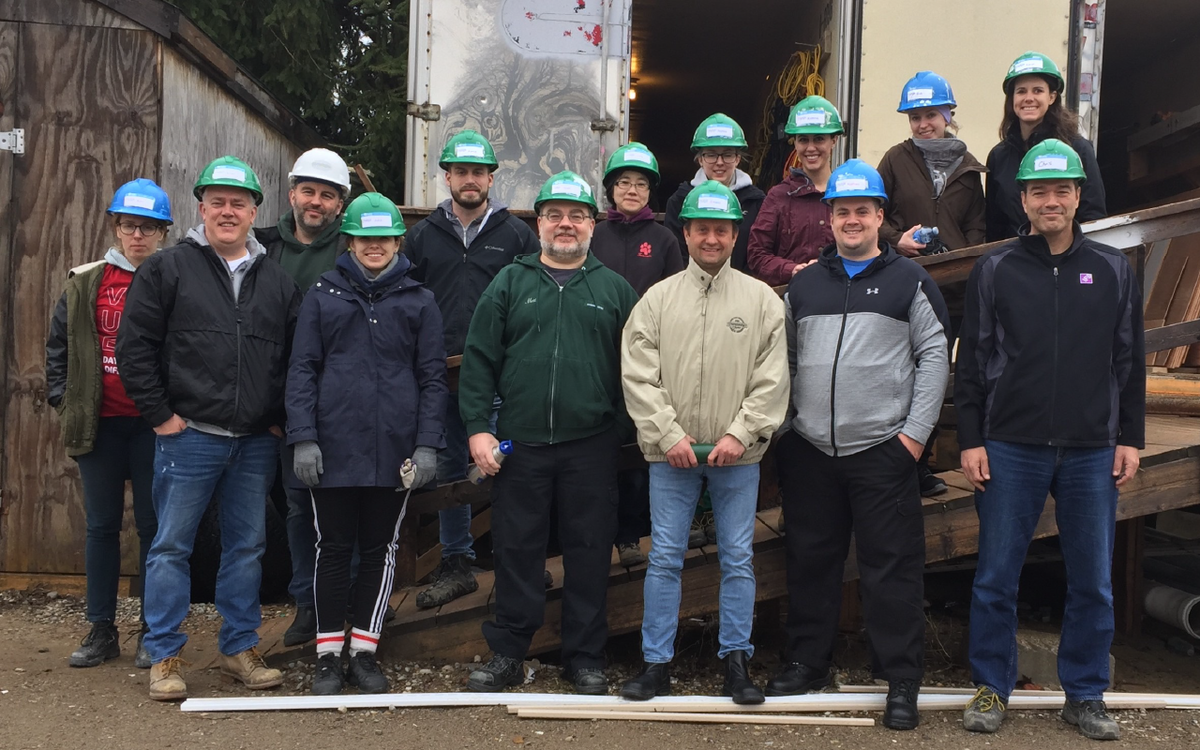 For the third year in a row, fifteen Flanagan employees volunteered their time (and muscles!) at the Kehl Street build in Kitchener as part of our partnership with Habitat for Humanity.
We participated in a Team Build Day; a unique opportunity for corporations and community groups to share the experience of participating in a Habitat for Humanity build.
Each year, there have been members of our Senior Leadership Team, finance, transportation, warehouse, operations, marketing, purchasing and sales. "Learning a new skill, meeting and working with new people was so much fun," says Julia Todorski, Flanagan's Human Resources Generalist. "It was wonderful to see so many people working together to create something beautiful!"
"It's a very fun and rewarding experience," adds Darren Murawsky, Director, Continuous Improvement at Flanagan Foodservice. "Always nice to give back to the community."
About Habitat for Humanity Waterloo Region
Habitat for Humanity is a global organization that helps families in need own their own home.
Volunteers help to build affordable houses which are then sold to residents of their community with an interest-free mortgage as a means to break the cycle of poverty. Families donate 500 hours of volunteer time ("sweat equity") that can be accumulated by helping construct their home, preparing food for build  [Habitat for Humanity2b] day teams, or working in Habitat's retail store, ReStore.
Waterloo Region began building the Kehl Street townhouse complex in 2013. When it's completed in 2021, there will be 44 units in total (the largest project to date in our region). Some families have already been able to move in to some of the completed units.
Flanagan Build Day
Our day starts at 8:15 am with a morning orientation and safety training.
We're then divided into teams and assigned to various tasks throughout the site. Team Leads (full-time volunteers) lead each crew with their task at hand, which included putting up vapour barriers and dry-walling.
This year was a chilly, rainy day, so we stuck to indoor tasks. Build Days go on rain or shine!
Team Leads are patient and encouraging, and we learned many new skills. Kim Amourette, Data Entry Clerk at Flanagan's said it perfectly, "I helped put up dry-wall yesterday and what I appreciated the most from my experience was that although I had no previous experience, I was supported and encouraged to be an active part of each step of the process."
Each group put in a lot of hard work throughout the day, and we kept nourished with a morning snack of fruit, pastries, oatmeal, bagels, spreads, shepherd's pie and hot beverages. Habitat for Humanity understands that for many of the volunteers this will be hard work that many won't be used to, so they make sure to keep everyone well fed and hydrated throughout the day. Lunchtime food offerings were as plentiful and delicious as the morning snack. It was an incredible spread of food, and we're very grateful to the Habitat for Humanity Waterloo Region hospitality team.
Team Build Days are great days. Everyone who participates is thrilled to help such a community-driven initiative and would absolutely volunteer again.
We're looking forward to returning in 2020!