Baked Berry Oats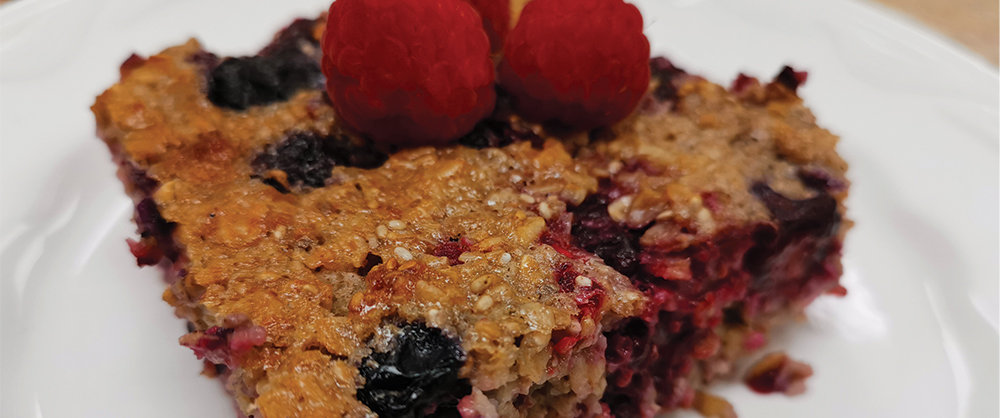 Cook Time: 40 min
Serves: 48 portions per 150 g #6 (Ivory) Scoop

Ingredients:
2.5 L (10 cups) of Lactose-free 2% Milk
11 Large Eggs
660 ml (2 ⅔ cup) of Maple Syrup
300 g (1 ⅓ cup) of Unsalted Butter melted
350 ml (1 ⅓ cup) of Unsweetened Applesauce
1.3 Kg (10 ¾ cups) of Dry Large Flake Oatmeal
220 g (1 cup 2 Tbsp) of Chia Seeds
10 g (2 tsp) of Salt
30 g (2 Tbsp) of Baking Powder
12 g (2 Tbsp) of Cinnamon
30 ml (2 Tbsp) of Vanilla
1.8 Kg (12 cups) of Frozen mixed berries (Original 2100ml)
120 g (1 cup) of Skim Milk Powder
NiD Fortified Milk
360 g (3 cups) of Milk, Skim Powder
3 L (12 cups) of Milk, Whole
Minced and Pureed
 7.2 Kg (48 scoops) of  NiD Baked Berry Oats
3 L (12 cups) of NiD Fortified Milk
Directions:
*WASH HANDS before beginning preparation & SANITIZE surfaces & equipment.
Preheat the oven to 350 degrees Fahrenheit or 177 degrees Celsius.
Spray 4  Half Hotel pan baking dish with non-stick cooking spray.
Add all ingredients into a large mixing bowl, and mix until combined.
Pour into prepared dish, and place on middle oven rack.
Bake for 40 minutes, until the center of the oatmeal is set and the edges are browned.
Cool for 10 minutes before slicing into nine portions.  Serve each portion in a dish, with a spoon alongside.
Leftovers can be stored, covered, in the fridge for up to one week.
Tips/Variations: 
MINCED AND PUREED PREPARATION
To make fortified milk, add skim milk powder to milk - mix until dissolved. CCP - Maintain <40F/4C.
Add prepared product and NiD fortified milk into a food processor or blender. Blend until desired consistency is achieved.
CCP - Maintain <40F/4C.  Discard unused product.
Recipe developed by Anne Kasper
Nutrition Facts for One Serving
Regular                              
Calories: ~ 350 kcal
Protein: 10+ g
Dietary Fibre: 5+ g
Minced and Pureed
Calories: ~ 450 kcal
Protein: 15+ g
Dietary Fibre: 5+ g
Note: Nutrient composition provided is approximate and may vary by ingredients used and quantity prepared. The nutrient composition values were rounded to the nearest 50 kcal for calories and the nearest 10 mg for sodium.