Balsamic Steak Sandwich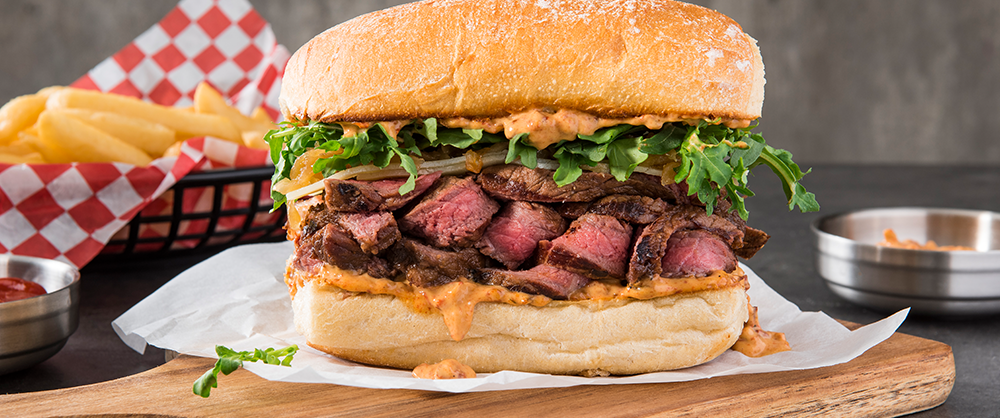 With sweet balsamic marinated steak, chipotle mayonnaise, caramelized onions and rich Gruyère cheese, this loaded Carve Premium Ontario Beef steak sandwich is an explosion of yummy flavours in every bite.
Prep Time: 25 minutes
Cook Time: 10 minutes
Total Time: 35 minutes (+ 4 hours 5 minutes standing time)
Serves: 12
Ingredients:
Balsamic Marinated Steak:
12 (6 oz each) Carve Premium Ontario Beef AAA – Striploins
1/2 cup (4 oz) balsamic vinegar
1/4 cup (2 oz) olive oil
1 tbsp (0.5 oz) brown sugar
4 cloves garlic, minced (1 oz)
4 tsp (1 oz) salt
4 tsp (0.5 oz) pepper
Chipotle Aioli:
1 cup (8 oz) mayonnaise
1/4 cup (4 oz) puréed canned chipotles in adobo sauce (about 8 chipotles)
2 tbsp (1 oz) lime juice
1/2 tsp (0.1 oz) salt
Assembly:
12 ciabatta buns, split and toasted to order
6 cups (4.8 oz) arugula
3 cups (12 oz) caramelized onions
12 slices (15 oz) Gruyère cheese
Fries or house salad, for serving
Directions:
Balsamic Marinated Steak: Stir together vinegar, oil, brown sugar, garlic, salt and pepper; marinate steaks for at least 4 hours or up to overnight in refrigerator. 
Grill steaks to order over medium-high heat for 4 to 5 minutes per side or until instant-read thermometer inserted in center of registers 130°F (54°C) for medium-rare or until cooked as desired. Let stand for 5 minutes; slice thinly.
Chipotle Aioli: Stir together mayonnaise, puréed chipotles, lime juice and salt. Store refrigerated until ready to serve.
Assembly: For each serving, assemble 1 sliced steak in toasted ciabatta bun with 1 1/2 tbsp (0.8 oz) chipotle mayonnaise, 1/2 cup (0.4 oz) arugula, 1/4 cup (1 oz) caramelized onions and 1 slice (1.25 oz) Gruyère cheese.
Serve with fries or house salad.
Tips:
• Use prepared caramelized onions, or slowly cook sliced onions over medium-low heat for 25 to 35 minutes in butter or until dark brown, tender and caramelized.
• For even cooking, start steak at room temperature.
Nutrition Facts
Per 1 sandwich (1/12 recipe)
Calories 840
Fat 45g
Saturated Fat 14g
Trans Fat 0.5g
Cholesterol 135mg
Sodium 1790mg
Carbohydrate 47g
Fibre 2g
Sugars 8g
Protein 60g
* Note – nutrition information does not include fries or house salad.