Beef and Mushroom Stroganoff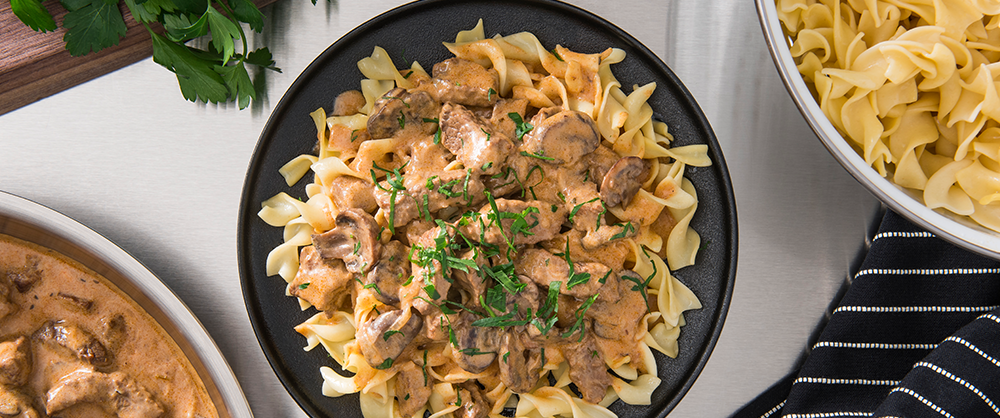 This classic stew never goes out of style. It's loaded with homey and comforting flavours that will please any customer.
Prep Time: 45 minutes
Cook Time: 3 hours
Total Time: 3 hours 45 minutes
Serves: 12
Ingredients:
Stroganoff:
3 lb (50 oz) Carve Premium Ontario Beef AAA Inside Round, cut into 1/2-inch (1 cm) cubes
1/4 cup (2 oz) butter, divided
1 tsp (0.2 oz) salt
1 tsp (0.07 oz) pepper
1 lb (17.5 oz) sliced mushrooms
2 onions, thinly sliced (9 oz)
4 cloves garlic, minced (0.8 oz)
2 tbsp (0.2 oz) finely chopped fresh thyme
1/4 cup (1.6 oz) all-purpose flour
2 tbsp (1 oz) tomato paste
4 cups (2 lb) sodium-reduced beef broth
1/4 cup (1.5 oz) brandy
2 tbsp (9 oz) Worcestershire sauce
4 bay leaves (0.1 oz)
1 tsp (0.1 oz) mustard powder
1/2 tsp (0.1 oz) smoked paprika
Assembly:
2 lb (32 oz) egg noodles, blanched
2 cups (18 oz) sour cream
1/4 cup (1.2 oz) finely chopped fresh parsley
Directions:
Stroganoff: Melt 2 tbsp (1 oz) butter in large Dutch oven or saucepan set over medium heat. Season beef with salt and pepper; cook, turning occasionally, for 8 to 10 minutes or until starting to brown all over. Transfer to tray; set aside.
In same pan, heat remaining butter; cook mushrooms, onions, garlic and thyme over medium-high heat for 5 to 8 minutes or until softened. Sprinkle flour over top; cook for 1 to 2 minutes or until smooth. Stir in tomato paste; cook for 1 minute longer.
Slowly whisk in broth and brandy; bring to boil, whisking constantly. Return beef to pan and stir in Worcestershire sauce, bay leaves, mustard powder and smoked paprika. Reduce heat to low; cover and cook, stirring constantly, for 2 to 2 1/2 hours or until beef is tender and sauce is thickened. Remove bay leaves. Let cool completely, refrigerate and reheat to order.  Alternatively, hold for service.
Assembly: For each serving, heat 3/4 cup (10.5 oz) Stroganoff in skillet set over medium heat until simmering. Remove from heat and toss with 2 tbsp (1.5 oz) sour cream. Cook 1/3 cup (2.7 oz) noodles in pot of boiling salted water until heated through and tender. Drain well; plate noodles topped with stroganoff. Garnish with 1/2 tsp (0.1 oz) chopped parsley.
Tip:
Alternatively, thinly slice beef into strips.
Nutrition Facts
Per 1/12 recipe
Calories 560
Fat 15g
Saturated Fat 7g
Trans Fat 0.3g
Cholesterol 150mg
Sodium 550mg
Carbohydrate 62g
Fibre 3g
Sugars 4g
Protein 39g