Bran Chocochip Cookie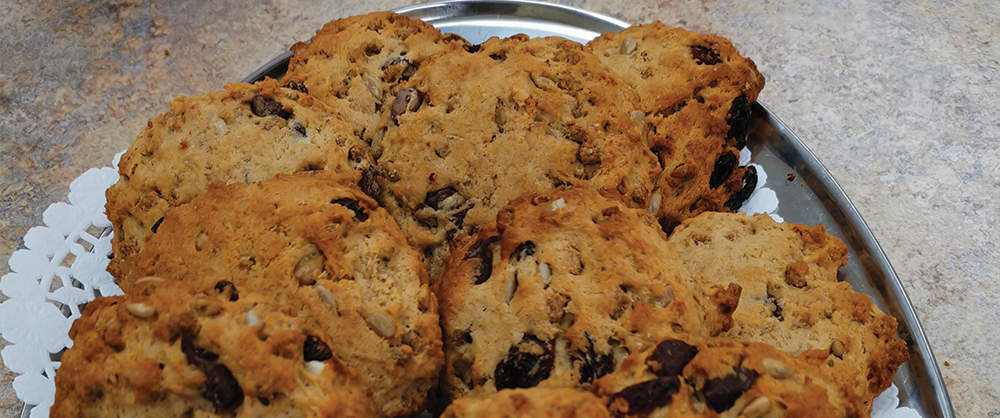 Cook Time: 13-14 min
Serves: 80 portions per 1 Cookie (50g) serving size

Ingredients:
720 g (3 cups) of Butter
375 g (2 cups) of Brown Sugar
300 g (1 cup) of Peanut Butter
200 mL (4 no.) of Large Egg
30 mL (2 Tbsp) of Vanilla Extract
500 mL (2 cups) of Unsweet Applesauce
600 g (4 cups) of Whole Wheat flour
140 g (1 cup) of Chickpea Flour
150 g (1 cup) of All Purpose Flour
10 g (2 tsp) of Baking Soda
5 g (1 tsp) of Salt
400 g (4 cups) of All Bran Buds
320 g (2 cups) of Raisins
200 g (1 cup) of Chocolate chips, semi-sweet
150 g (1 cup) of Sunflower Seeds
NiD Fortified Milk
720 g (6 cups) of Milk, Skim Powder
6 L (24 cups) of Milk, Whole
PUREED BRAN CHOCOCHIP COOKIE WITH FORTIFIED MILK
80 each NiD Bran Chocochip Cookie
2.4 L (9 ⅔ cups) NiD Fortified Milk
4.8L (19 ¼) cups Yogurt Plain Bulk
Directions:
*WASH HANDS before beginning preparation & SANITIZE surfaces & equipment.
Preheat the oven to 375 F.  Line a baking sheet with parchment paper.
Cream butter and brown sugar for 5 minutes.  Add in peanut butter and mix until smooth
Next, add the egg and vanilla and mix until well incorporated.  Then add applesauce ¼ cup at a time, mixing in between each addition until well incorporated.
In a separate bowl, combine whole wheat flour, chickpea flour, AP flour, baking soda, and salt.  Add in two additions to the creamed butter sugar mixture.  Mix to combine. To the mixer add in bran cereal buds and mix.  Then add in sunflower seeds, raisins and chocolate chips.  Mix to combine. 
Measure 50 grams of dough for each cookie (Yellow scoop) and place on a lined cookie sheet.  Provide enough space in between each cookie.  Using a floured fork, press cookies down to form 1-1.5 inch in diameter disks.
Bake for 13-14 minutes.  Remove from the oven and cool. 
Tips/Variations:
PUREED PREPARATION
To make fortified milk, add skim milk powder to milk - mix until dissolved. CCP - Maintain <40F/4C.
Add prepared cookie with yogurt and fortified milk. Blend in food processor or blender until smooth.
CCP - Maintain <40F/4C.  Discard unused product.
Nutrition Facts for One Serving
Regular
Calories: ~ 200 kcal
Protein: 5+ g
Pureed
Calories: ~ 250 kcal
Protein: 10+ g
Note: Nutrient composition provided is approximate and may vary by ingredients used and quantity prepared. The nutrient composition values were rounded to the nearest 50 kcal for calories and the nearest 10 mg for sodium.