Chipotle Pot Roast Tacos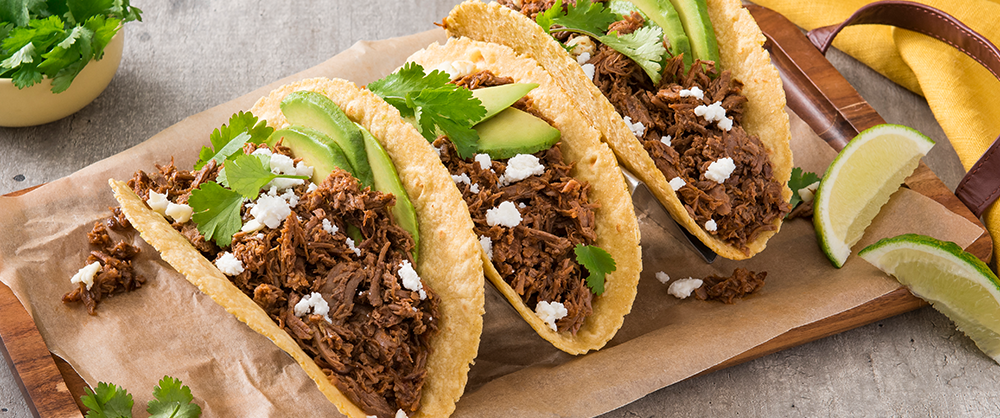 With crowd-pleasing Tex-Mex flavours, these slow-cooked Carve Premium Ontario Beef pot roast tacos will definitely be a hit on any menu.
Prep Time: 45 minutes
Cook Time: 4 hours
Total Time: 4 hours 45 minutes
Serves: 12
Ingredients:
Chipotle Pot Roast:
1 Carve Premium Ontario Beef AAA Inside Round Roast (6 lb) (2.7 kg)
1 tsp (5 mL) (3 g) each salt and pepper
2 tbsp (30 mL) canola oil
1 onion, diced (100 g)
4 cloves garlic, minced (25 g)
1 tbsp (15 mL) (7 g) ancho chili powder
1 tbsp (15 mL) (7 g) ground cumin
1 tsp (5 mL) (1 g) dried oregano
2 minced canned chipotles in adobo (30 g) and 2 tbsp (30 mL) adobo sauce
1 can (28 oz/796 mL each) plum tomatoes, crushed
2 cups (375 mL) sodium-reduced beef broth
1/4 cup (60 mL) lime juice
1/4 cup (60 mL) orange juice
2 tbsp (30 mL) brown sugar
Assembly:
3/4 cup (175 mL) olive oil
36 corn tortillas (small), warmed
3 avocados, halved, pitted, peeled and sliced
2 1/4 cups (550 mL) (320 g) crumbled cotija cheese
2 1/4 cups (550 mL) (40 g) fresh cilantro leaves
Directions:
Preheat oven to 325°F (160°C).
Chipotle Pot Roast: Season roast with salt and pepper. Heat oil in large Dutch oven or large ovenproof saucepan set over high heat; cook roast for 10 to 15 minutes or until seared all over. Remove from pan.
Stir in onion and garlic; cook for 2 to 3 minutes or until slightly softened. Stir in ancho chili powder, cumin and oregano; cook for 1 to 2 minutes or until fragrant. Stir in chipotles and adobo; cook for 1 minute. Stir in tomatoes, broth, lime juice, orange juice and brown sugar; bring to boil.
Return roast to pan; cover and roast for 3 to 3 1/2 hours or until fork-tender and can be shredded easily.
Shred roast with 2 forks; toss with sauce. Let cool completely;  refrigerate and reheat to order. Alternatively, hold for service.
Assembly: For each serving, heat 1 tsp (5 mL) oil set over medium heat. Cook 1 cup (250 mL) (300 g) of shredded beef until heated through.
Divide beef among 3 warmed tortillas. Top each taco with 3 slices of avocado, 1 tbsp (15 mL) (9 g) cotija cheese and 1 tbsp (15 mL) (1 g) cilantro.
Tip
Substitute feta cheese for crumbled cotija cheese.  
Nutrition Facts
Per 3 tacos (1/12 recipe)
Calories 780
Fat 36g
Saturated Fat 9g
Trans Fat 0.1g
Cholesterol 140mg
Sodium 1480mg
Carbohydrate 46g
Fibre 6g
Sugars 5g
Protein 67g