French Toast - Pureed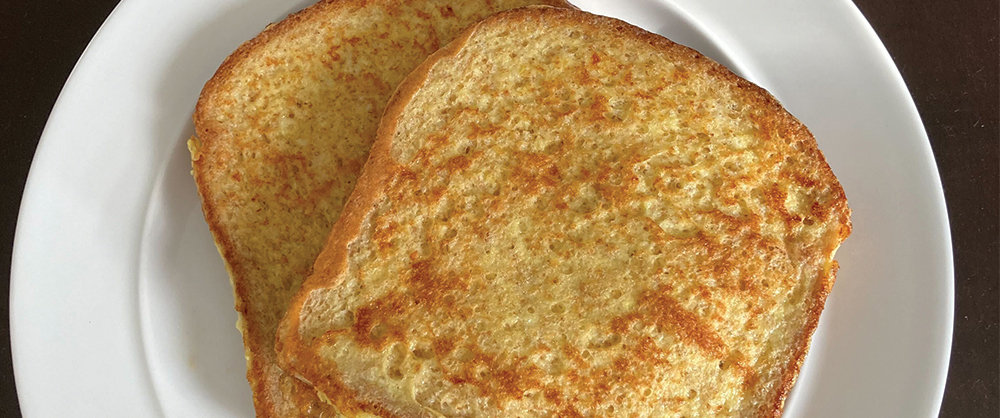 Cook Time: 1 min
Serves: 50 portions (of #12 scoop serving)

Ingredients:
828 mL (3.5 cups) of Eggs, Whole Diced Frozen
500 mL (2.1 cups) of Applesauce, unsweetened
8 L (33.8 cups) of Milk, 2% Lactose-free
3 kg (4.5 loaves) of Bread, Whole wheat
75 mL (⅓ cup) of Sugar, Brown
59 mL (¼ cup) of Cinnamon, Ground
473 mL (2 cups) of Flax, Ground
Directions:
Wash hands before beginning preparation. Sanitize surfaces and equipment.
In a large plastic bowl (approx 10L size), add all ingredients
Using a hand blender, mix ingredients until smooth, ensuring no lumps. Mix for approximately 3 minutes.
Add more milk accordingly to ensure pudding consistency.
CCP - Maintain: The product must reach 140 °F/60 °C to 70 °F/21 °C within 2 hours and 70 °F to 40 °F within 4 hours.
CCP - Reheat: To temp of 165 °F/74 °C held for 15 seconds, within 2 hours - one time only.
Recipe was developed by Lisa Gauthier
Nutrition Facts for One Serving
Calories: ~ 200 kcal
Protein: 5+ g
Note: Nutrient composition provided is approximate and may vary by ingredients used and quantity prepared. The nutrient composition values were rounded to the nearest 50 kcal for calories and the nearest 10 mg for sodium.