Prime Rib Frites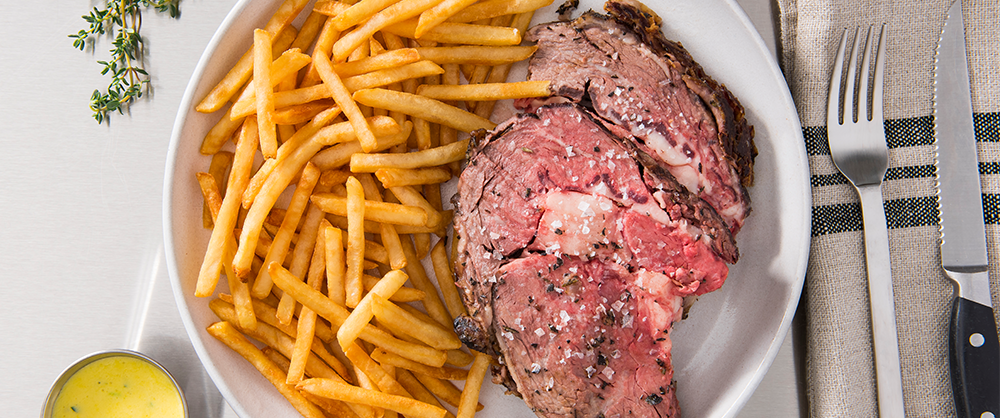 Perfect for lunch or brunch, this twist on a French bistro classic with heavenly béarnaise sauce delivers delicious comforting flavors that are sure to please.
Prep Time: 30 minutes
Cook Time: 3 hours 50 minutes
Total Time: 4 hours 20 minutes
Serves: 12
Ingredients:
Herb-Crusted Prime Rib Roast:
1 (8.3 lb) Carve Premium Ontario Beef AAA Bone-In Prime Rib
1/4 cup (0.6 oz) finely chopped fresh rosemary
1/4 cup (0.5 oz) finely chopped fresh oregano
1/4 cup (0.4 oz) finely chopped fresh thyme
1/4 cup (0.3 oz) finely chopped fresh sage
1/4 cup (2 oz) olive oil
2 tbsp (0.8 oz) minced garlic
2 tbsp (1 oz) coarse salt
2 tbsp (1 oz) coarsely ground pepper
Béarnaise Sauce:
3/4 cup (6 oz) Champagne vinegar
1/2 cup (2.5 oz) minced shallots
4 (.05 oz) peppercorns
2 tbsp (0.1 oz) finely chopped finely chopped fresh tarragon, divided
1 lb (16 oz) unsalted butter, clarified and warm
6 egg yolks
1 tsp (0.1 oz) salt
1 tbsp (0.5 oz) lemon juice (optional)
Assembly:
3 lb frozen shoestring potatoes
1 tsp (0.1 oz) salt
1 tsp (0.07 oz) pepper
Directions:
Herb-Crusted Prime Rib Roast: Stir together rosemary, oregano, thyme, sage, oil, garlic, salt and pepper. Rub herb mixture all over top of roast; transfer to rack in shallow roasting pan, fat side up. Roast in 325°F (160°C) oven for 2 1/2 to 3 1/2 hours or until instant-read thermometer inserted in center registers 130°F (54°C) for medium-rare or until cooked as desired. Hold for service.
Béarnaise Sauce: In small saucepan, combine vinegar, shallots, peppercorns and 1 tbsp (0.05 oz) tarragon; bring to boil. Reduce heat to medium-low; simmer for about 4 to 5 minutes or until liquid is reduced to 1/4 cup (2 oz). Strain and press through fine sieve; set aside.
Whisk egg yolks in metal bowl until pale and frothy. Fit bowl over saucepan of barely simmering water; gradually whisk vinegar reduction into egg yolks until mixture is thickened to ribbon stage and doubled in volume. Slowly whisk in warm clarified butter, 1 tbsp (0.5 oz) at a time, until emulsified. (Remove bowl from saucepan occasionally to moderate the temperature to prevent the sauce from splitting.) Season with salt. Thin with a splash of hot water if too thick. Stir in remaining tarragon and whisk in lemon juice. Hold for service and discard after service.
Assembly: For each serving, fry to order 4 oz shoestring potatoes for 4 to 6 minutes or until golden brown and crispy; toss with  pinch of salt and pepper. Slice Herb Crusted Prime Rib Roast to order into 4 oz serving. Serve with 2 1/2 tbsp (3.1 oz) Béarnaise Sauce and 1 serving shoestring potatoes.
Tips:
• For even cooking, start roast at room temperature.
• Before carving, let roast stand for half of the time it was cooked.
Nutrition Facts
Per 1/12 recipe
Calories 1200
Fat 96g
Saturated Fat 44g
Trans Fat 1g
Cholesterol 330mg
Sodium 1500mg
Carbohydrate 33g
Fibre 3g
Sugars 2g
Protein 50g