The Ultimate Beef and Bacon Stack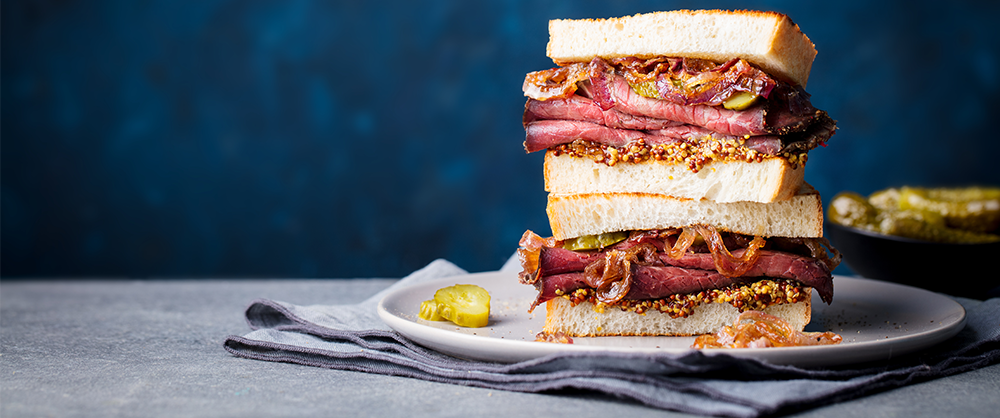 Get ready to sink your teeth into the ultimate sandwich experience with our mouthwatering recipe featuring succulent Carve Ontario, AAA beef and crispy, savoury Solutions bacon.
Serves: 4
Ingredients:
8 slices of thick sourdough bread (#125769)
12 oz thinly sliced cooked roast beef (#222816, Carve Premium Ontario Inside Round AAA)
8 strips of Flanagan Solutions bacon (#219413)
16 sliced dill pickles (#234010)
1/2 thinly sliced onion (#282032)
2 tbsp Dijon mustard (#358292)
2 tbsp mayonnaise (#433411)
1 tbsp olive oil (#448168)
Salt and black pepper to taste
Directions:
Preheat your oven to 400°F. Lay the bacon strips onto a baking sheet lined with parchment paper and bake for 10-15 minutes or until crispy. Remove from the oven and set aside.
In a small bowl, mix together the Dijon mustard and mayonnaise. Set aside.
Heat the olive oil in a skillet over medium heat. Add the thinly sliced onions and sauté for 3-4 minutes or until they are softened and slightly caramelized. Set aside.
Toast the slices of sourdough bread until they are golden brown.
Assemble the sandwich by spreading the Dijon mustard and mayo mixture on each slice of bread. Layer the roast beef, bacon, pickles and sautéed onions onto one slice of bread, season with salt and black pepper, and then top with the other slice of bread.
Cut the sandwich in half and serve immediately.