Patio Pulled Chicken Flatbread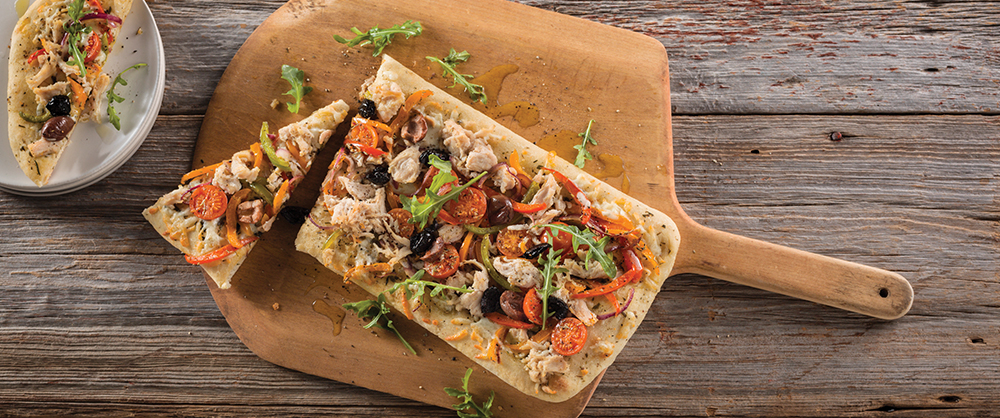 Tender Canadian pulled chicken served on a crisp herb flatbread with an artichoke and asiago base with peppers, tomatoes, olives, shredded cheese then finished with fresh arugula.  A great starter on the patio.
Ingredients
85 g (3oz)             Schneider's Pulled Chicken (Flanagan Code #164475)
1ea                         par-baked herb flatbread
57g (2oz)              shredded cheddar & mozzerella Cheese              
60ml (2oz)            artichoke & asiago spread
4ea                        cherry tomatoes (cut in half)
28g (1oz)              red onion (sliced thin)
57g (2oz)              red, green & yellow peppers (sliced thin)
28g (1oz)              Kalamata olives (pitted & cut in half)
to taste                 Italian herb seasoning blend
to taste                 cracked black pepper
garnish                 fresh arugula    
Instructions:
Brush flatbread with spread and add all vegetables.

Break apart pulled chicken and spread evenly across flatbread.

Add cheese and seasoning and baked at 190⁰C (375⁰F) for approx. 8 to 10 minutes.

Garnish with arugula and serve.