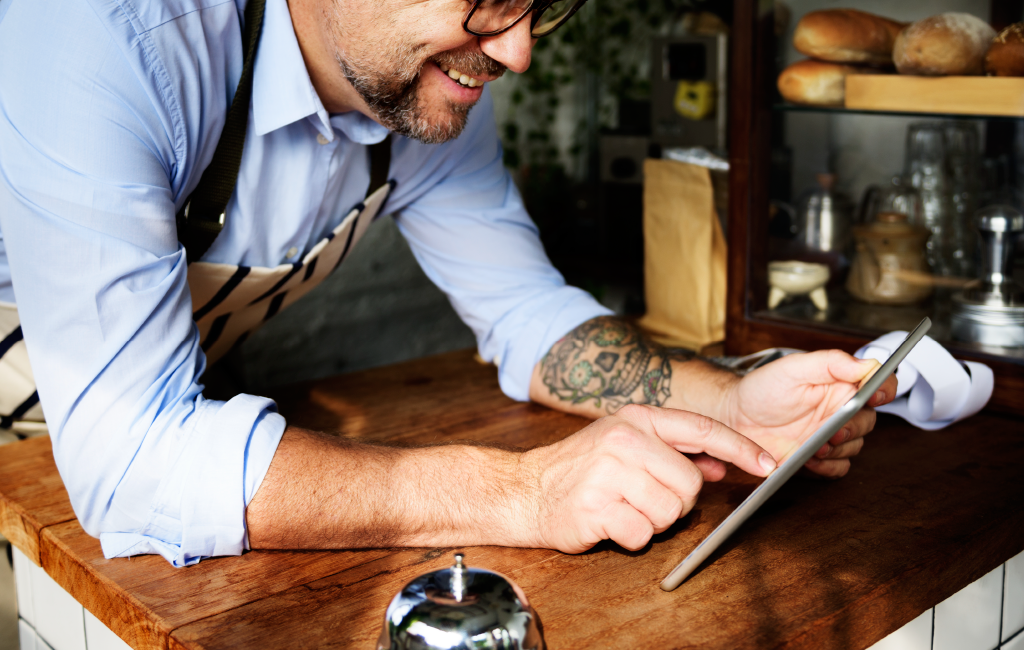 Our world is increasingly becoming one of convenience.

With access to so much information at our fingertips and the ability to have consumer products shipped directly to you same-day, today's consumers want what they want, when they want it, where they want it, and it's no different when it comes to their meals.

It's more than simply being on the right apps. Your customers' online ordering experience will include all elements and actions from their initial search to their last bite of food.
It's time to get on board with food ordering apps
Technology has made a huge impact on the behaviour of your customers and how they choose to enjoy their meals.
50% of Canadians now use their smartphone to order food and drinks. Having a presence on third-party delivery apps like Skip the Dishes or UberEats it's not only convenient to your existing customers, it's advertisement to potential customers who are debating where they should choose to eat.
The apps themselves make it easy for you, too. Long gone are the days of complicated software platforms that are more hassle to use than they are worth. These apps present easy-to-use interfaces and make the process smooth and simple to receive your orders, coordinate delivery times and accept payment.
Menu
Is your menu on ordering apps and your website up to date? The biggest let down for a consumer is to discover that the food they want to order isn't actually available. SkipTheDishes and UberEats make it as easy as possible to update menu items within seconds and as often as necessary. It's important to note that though your menu should be up to date on third party sites, your entire menu doesn't have to be included.
Choose a few easy and portable menu items—like sandwiches, soups or salads—and feature those as delivery options to still benefit from the brand exposure on the platform and additional revenue stream.
Delivery charges
These are determined by you. Yes, you do want to make sure that you are covering your costs, but you also need to think strategically about these. If someone can order something similar from multiple restaurants, their determining factors are going to come down to final cost and delivery time. Remember, today's consumers don't have the same level of loyalty as previous generations and will easily switch to somewhere new if it means a more enjoyable experience.
Delivery time
Skip the Dishes and UberEats allow you to set your own prep time and easily control the pace of your kitchen. You can adjust prep times whenever you need, such as at peak times or on days when you are down staff. UberEats will also adjust it automatically based on order volumes, time of day, and order size. Ensure you stick to the determined delivery times as closely as possible. You don't want a customer to be waiting longer than expected for their food to arrive, nor do you want their food to arrive cold because it was prepared too early.
Packaging
Don't underestimate the art of good packaging! No one wants to have their order delivered only to find that something has leaked out of its container, or that food has gone cold and soggy. Your food is travelling a journey to get to its destination that could easily include bumps in the road and big swerves. Proper packaging is key to ensuring that your establishment's eating experience transfers to the home, as this is a reflection of your brand and your commitment to your diners' whole experience.
Maintain a strong digital presence
Don't forget—your online presence goes far beyond the ordering apps themselves. Consumers are looking to a whole host of digital mediums when deciding where to order their food, whether they're eating on or off-site. Making food decisions is usually an 'in-the-moment' choice with over half of all dinner decisions being made day-of. Having a strong online presence is imperative to being selected when consumers are doing their last minute (and hungry) searching.

Things to consider to ensure a seamless digital experience for your customers:
A responsive website
That is, one that will adjust in size to display nicely on a mobile phone without users needing to zoom in and out. This should include easy navigation to view the menu and contact information, specifically address and hours of operation. Think about using the website from your customers' point of view and try to get them to the important information in as few clicks (or taps) as possible.
Social media accounts
Social media continues to have a huge influence over people's food choices and having an engaging social presence is vital to staying competitive and promoting your brand. Check out these tips to help you in best leveraging your accounts.
Well-developed Google business page
This is the first thing that will appear when someone Googles your restaurant name (Approximately 75% of all internet searches are conducted through Google). It contains information on your location, phone number, hours of operation, and user submitted reviews and photos. Ensure that this information is up-to-date and complete with pictures and information that you want to be showing. Remember, this is free advertising in a high traffic place!