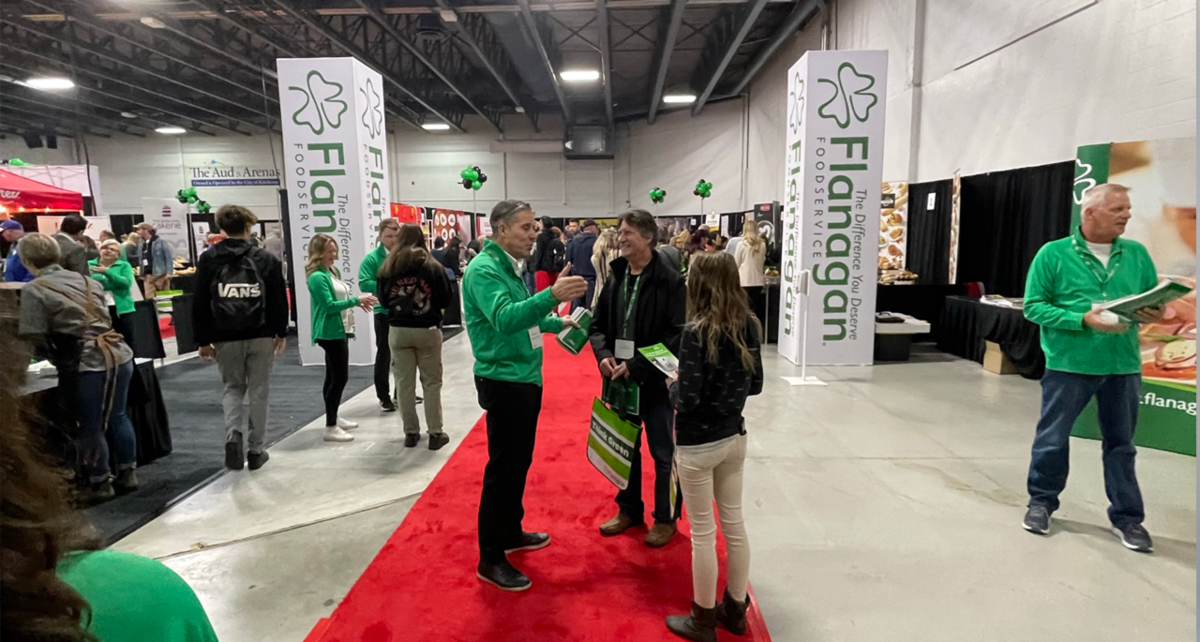 2023 Food Show Product Review
At this year's food show, we were proud to showcase hundreds of incredible products. With so many amazing options, it was difficult for us to pick only a few favourites - but here are some highlights from the event!
The Flanagan Food Show is where the foodservice industry gathers to look ahead into what's new, exciting and trending in Canadian cuisine. This year was particularly special with over one thousand of people in attendance - all buzzing with anticipation! Even Elvis popped by to entertain our guests. There were exclusive deals, delicious samples and learning opportunities for attendees.
Campbell's Bombay Style Butter Chicken Soup

When it comes to soups, Campbell's is recognized internationally for their quality and innovation. I had the pleasure of sampling their Bombay Style Butter Chicken Soup, and I must say it was impressive. Garam masala...cumin…turmeric, oh my! The unique blend of spices make for excellent ethnic flavour. With its creamy texture and perfect balance of spices, this soup is on trend. It's packaged in 4 x 1.81 kg packages, allowing for smaller batch preparation that is super easy to cook directly in the pouch.

 

191019                VERVE SOUP BOMBAY BUTTER CHICKEN - 4/1.8KG
McCain - Corn Rbz

McCain, a well-known leader in frozen potato products, now enters the world of plant and vegetable shareables with their new launch. One of their latest additions, the Corn Rbz (corn ribs), is a perfect example of the innovation in the industry today. These rib-like treats are made with sweet corn that has been coated in crispy batter. While eating them, it's essential to hold them like ribs to make sure you get the full experience. They make a great appetizer or side dish.

 

199297                MCCAIN CORN RIBZ - 4/4LB
Carve Premium Ontario Beef – Prime Rib

Carve Premium Ontario Beef supports our local farmers and economy. They offer AAA quality beef that is aged a minimum of 21 days, which makes it flavourful, juicy, and tender. Carve showcased their famous prime rib at our show, which got everyone buzzing. The booth was so popular I had to circle back to taste what everyone was raving about. The recipe that made everyone's taste buds dance was a simple sandwich, which included caramelized onions, au jus, and Carve Prime Rib on a bun. What I loved about this sandwich was its simplicity and ease of execution that any operator could put it on their menu.

 

222824                CARVE BEEF RIBEYE 2X2 LIPON AAA - 2/7KG
 

Mother Parker's Cold Brew

If you aren't serving a cold brew coffee in your establishment, you are missing out on a huge (and growing) market. Mother Parker's Cold Brew is approximately $0.07 cents an ounce and consumers typically don't ask for top-ups with a cold brew. This product is super easy, simply put it in the machine, and let it brew for 16 hours and voila - cold brewed coffee.

 

343449                MP COFFEE COLD BREW HAND CRAFTED - 15/16OZ
Rich's Soft Whip Topping

Rich's Soft Whip Topping is a game-changer for any beverage. This pourable carton contains a drinkable topping that is lighter and thinner than traditional whipped cream. The easy-to-use carton eliminates the need for any equipment, saving time and hassle. It is perfect for specialty drinks, adding a sweet cream flavour with hints of vanilla. The dollop on any drink adds value and makes the drink eye-catching. In addition, Brand Points Plus members should keep an eye out for point multipliers in the May/June Brand Points Plus flyer. If you are a Flanagan customer, signing up for Brand Points Plus is free and members can earn points for great rewards on many items.

 

116441                RICHS SOFT WHIP POURABLE TOPPING - 12/19OZ
Alasko Omelet Mix

The Alasko Omelet Mix is a HOT DEAL with a $5.00 off per case offer for tradeshow attendees! In addition to the savings on the product, using the Alasko Omelet Mix saves on labour as there is no need to slice or dice any ingredients. The mix contains diced onions, red peppers, and green peppers, making omelet preparation quick and easy.

 

197571                ALASKO IQF OMELETTE MIX (ONION & PEP) - 10/1KG
Castello Gouda Slices

Sliced Gouda? Yes please! Sampling this cheese was a tasty experience, it is delicious and authentic! Made from 100% Danish milk, hormone, and antibiotic-free. This flavourful cheese is perfect for adding a gourmet touch to burgers or sandwiches, and its smaller pack size means less waste from open products. The growing demand for Gouda makes it an excellent choice for menu items. Brand Points Plus members should also keep an eye out for point multipliers.

 

207865 – CASTELLO GOUDA SLICES – 8/150GM

 
Seacouterie Board

The Seacouterie Board is a fresh take on the traditional charcuterie board by combining all seafood items on one board. The Caudles team had a variety of fresh options, from traditional favorites to luxurious items like caviar. This board is sure to impress seafood lovers. The display at the show included a sampling of some of the best seafood items available. Include various items such as (230213) Atlantic Salmon, (230088) Scallops, (230046) Mussels, (230307) Oysters, (230023) Caviar, and (230230) Lobster. Talk to your Territory Manager for more fresh seafood options!
Aviko Au Gratin Potatoes Cream and Cheese

My favourite new product of the day! These potatoes are a must try! These award-winning potatoes are made with fresh cream, butter, and cheese, and full slices of potatoes. Each portion (100g) is perfectly portioned for the ideal starch side for any meal. Their long hold time makes them ideal for banquets, and they cook in just 25 minutes in the oven. There are 90 portions in a case (6/15ea).

 

155992                AVIKO GRATINS CREAM & CHEESE - 6/3.3LB
Lynch's Maple Chili Sauce

Lynch's Maple Chili Sauce stood out as one of the highlights of the day. The unique flavour profile of this sauce is sure to appeal to a wide range of guests, with its perfect blend of sweet and heat. The versatility of this sauce is impressive, as it can be used as a dip for seafood, a glaze for chicken, or even mixed with other sauces to create your own signature dish. One of the most intriguing suggestions was to try it on top of vanilla ice cream, which is definitely worth a taste test. It is also important to note that maple is currently trending upwards with diners, making this sauce a perfect addition to any menu.

 

446141                LYNCH MAPLE CHILLI SAUCE - 2/2LT

 
Lactalis Shredded Mozzabene 24%

Lactalis Shredded Mozzabene 24% is a great alternative to traditional shredded mozzarella cheese. This cheese, which is pronounced "mots-ahh-beneh," (learned this the hard way when I completely mispronounced it at the show) has a unique shiny texture and great taste. It stands out because it has a higher fat content than normal mozzarella cheese, making it perfect for use in high-temperature ovens or wood-fired ovens. Lactalis is one of the few producers that offer a 24% shredded mozzabene. The best part is that this cheese is still priced competitively compared to conventional mozzarella cheese. For those interested in trying it out, samples can be obtained by reaching out to your Territory Manager.

 

207817                LACTAN CHEESE SHRED MOZZABENE 24% - 4/2.27KG
Martin's Potato Hamburger Buns

Potato buns are the latest addition to the bread market and their demand is rapidly increasing. These buns are created with a unique ingredient which sets them apart from other baked goods - potatoes. The use of potatoes in the production of potato buns results in a bun that is slightly sweeter and softer than regular bread, with a distinct yellow hue. The resultant texture and taste of potato buns make them a versatile ingredient that can be used in various ways, from classic sandwiches to high-end gourmet burgers.

 

125864                MARTIN BURGER BUN POTATO 4" - 4/12EA
Egg Bites

Another example of a trending snack that is growing in popularity is "omelet bites." These bite-sized snacks are impressively high in protein and provide a quick and easy way to satisfy hunger while on the go. The simplicity of execution makes them an attractive option for people on a tight schedule, and they are also gluten-free, providing another potential selling point for businesses catering to gluten-sensitive customers. In a consumer environment where convenience and healthiness are both crucial factors, omelet bites are a perfect snack option that caters to both. Available in three flavours:

 

110183                EGGSOL EGG BITES FOUR CHEESE             1/94EA

110196                EGGSOL EGG BITE BACON & CHEDDAR    1/94EA

110198                EGGSOL EGGBITE REDPEP SPIN EGGWHITE           1/94EA
Sparkling Cranberry Beverages

One of my favourite stories of the day! Did you know that Ocean Spray was founded in 1930 by three cranberry farmers and has since grown to include over 700 farmer families? Out of these 700, 100 Canadian farmers also make up the Ocean Spray team. All proceeds from Ocean Spray go right back to the farmers.

 

One exciting new line from Ocean Spray that has been garnering attention is their sparkling cranberry beverages. These refreshing drinks have a fruity, bubbly taste that is sure to please the most discerning palates. Manufactured in Canada with real fruit juice and cranberry goodness, these carbonated beverages are a refreshing alternative to traditional sodas.

 

463772                OSPRAY WATER SPARKLING CRANBERRY               24/340ML

463773                OSPRAY WATER SPARKLING CRANBERRY LITE      24/340ML

463774                OSPRAY WATER SPARLING CRANBERRY MANGO 24/340ML
Wow Factor New Cakes

I had to sample three new cakes from Wow Factor (tough job, but someone has to do it) and in typical Wow fashion – they did not disappoint.

Boston Cream Pie Cake – Vanilla custard is sandwiched between two layers of fluffy vanilla cake then coasted with a smooth chocolate glaze.
Nanaimo Bar Cake – With Nanaimo bar's chocolate base packed with coconut and graham crumbs followed by the layer of custard-flavoured frosting and op layout or rich chocolate glaze.
Old Fashioned Chocolate Cake – This was my favourite of the new cakes, rich chocolate separated by chocolate mousse made from scratch. Finished with chocolate buttercream and swathed in chocolate ganache.

Don't forget: Wow Factor has a FREE dessert menu program. If you place a minimum of 4 Wow Factor Desserts on your dessert menu you are eligible for a free custom-designed, full colour dessert menus. Talk to your Territory Manager for more information or visit app.wowfactor.ca.

 

105716                WOW BOSTON CREAM PIE CAKE - 2/9IN

105715                WOW NANAIMO BAR CAKE - 2/10IN

105714                WOW OLD FASHIONED CHOCOLATE CAKE - 2/10IN
Deluxe new Duro Shoppers available

If you're looking for environmentally friendly bags, Deluxe has you covered. Their two new large bags make takeout service a breeze and offer the perfect solution for your guests.

 

504859   DELUXE BAG PAPER HANDLE 10X6.75X12" - 1/250PC

504861   DELUXE BAG PAPER HANDLE 12X9X12.75" - 1/200PC
Uncrustables

PB and J with the crusts cut off? YES, Uncrustables have entered the Canadian market! A popular item in the United States, these sandwiches are not only a hit among kids but also perfect for grab-and-go locations, such as colleges, university campuses or golf courses.

 

108060                SMUCKR STRAWBERRY UNCRUSTABLES  - 72/76GM
FREE Activity Placemats

To add a touch of entertainment to your menu, you might want to consider offering free kids activity mats from Egg Farmers of Ontario. These mats feature fun egg-shaped glasses that pop out, providing entertainment for children while they wait for their meals. The activity sheets are available at no cost, orders can be made online through the EggChef website.
Browne iAssist

When I saw a robot (a.k.a. iAssist) rolling down the aisles at the show I knew I had to investigate. I was impressed by its sleek design and functionality. The robot could smoothly move around, carrying trays with food and drinks (George Jetson was no where to be found).

 

I had a great conversation with the Browne representative, who explained to me how the iAssist works and who would benefit from using it. You can supplement your serving staff with the robot, allowing them to stay in the front of the house with your guests while the iAssist goes to the kitchen. Your kitchen staff can then put the food on the trays, and the iAssist will carry them back to the table. This simple process saves time and maximizes efficiency, allowing the server to attend to more guests and tables. It can also lead to higher tips for your servers, and greater customer satisfaction.

 

Alternatively, guests can take the food off the tray themselves, and the iAssist can still help with the bussing of the dishes. The robot has three trays, each capable of holding up to 22 lbs.

 

I did inquire about programming iAssist, let's face it – no one is looking for more stress with tech. Browne will come to your restaurant and set it all up for you. Talk to your Territory Manager if you need more information.
That's a wrap for this year. We share our heartfelt thanks with everyone who came to celebrate with us. We were thrilled to have you join us!  As Elvis would say, "thank you, thank you very much."
Explore Our Food Show through Photos: