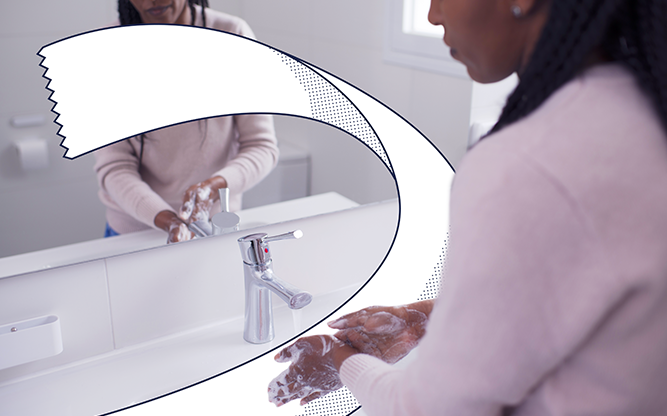 Become a Winter Pro
Cascades PRO conducted a survey to find out what consumers expect in terms of hygiene and cleanliness in 2023. Now they are sharing the results and discoveries to help companies respond to their customers' needs.
While hand washing is important in every season, the recent survey reveals that good hygiene is considered more important during the infamous cold season. 
So how do you keep your washroom clean and comfortable during winter? We'll give you all the tips and tricks you need to become a winter pro!
Cleanliness: a Sign of Trust
Being a winter pro means understanding users and their behavior during the winter season. The better we understand them, the better equipped we'll be to meet their expectations and needs in terms of washroom hygiene. For example, 97% of people surveyed believe that washroom cleanliness reflects how much businesses care about their employees and clients.
So how can organizations demonstrate the importance they place on the cleanliness and comfort of their washrooms? By offering something that people closely associate with cleanliness. We're talking, of course, about paper towels. 
In fact, many of the survey results reveal why consumers prefer paper!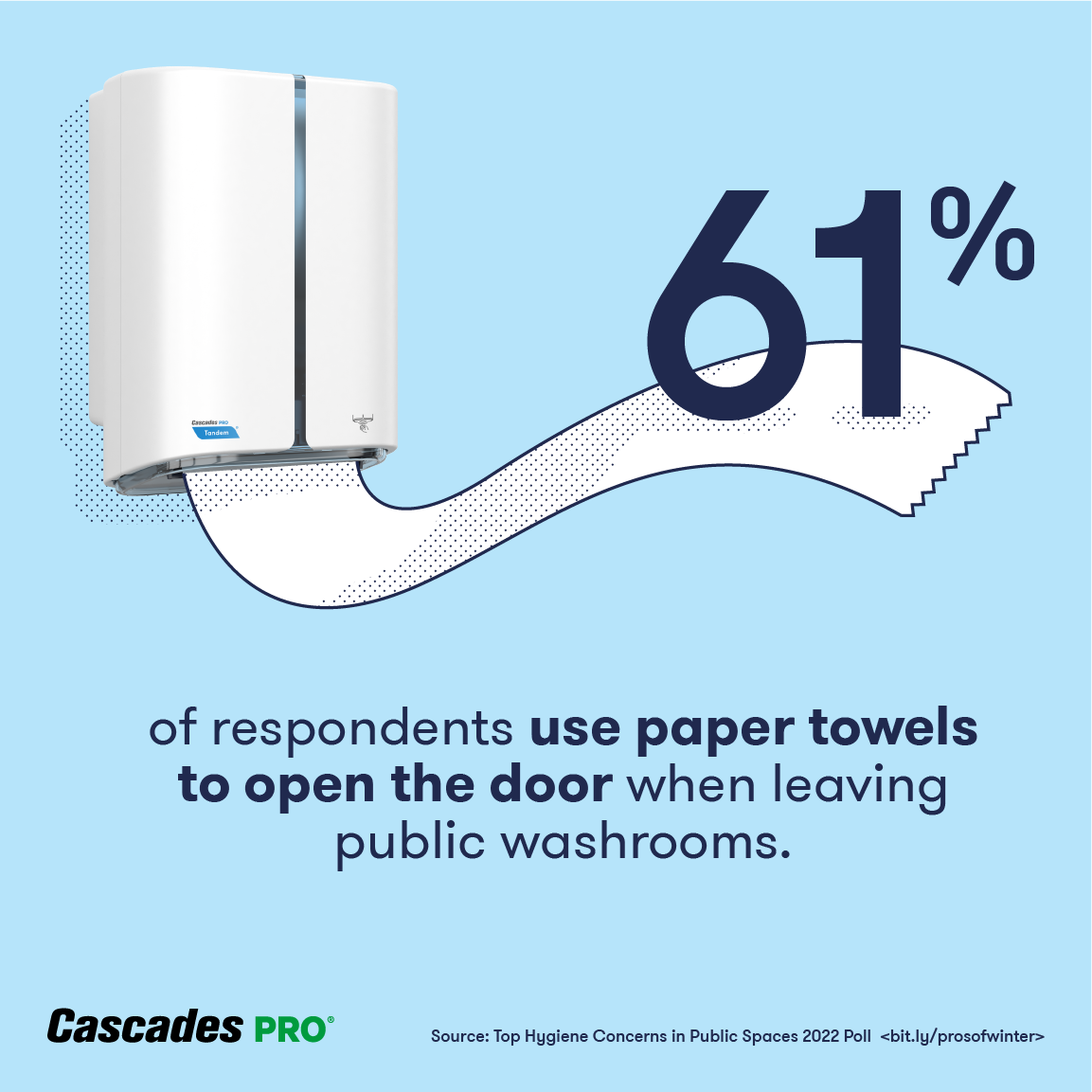 Winter Pro, pro Good Habits
Winter is the season for chapped hands. Especially with the freezing temperatures drying them out, our hands could do with a little relief during these few months. Cascades PRO may not offer a moisturizer, but it does offer the solution for people who prefer to dry their hands with paper - 73% of those surveyed. 
Their Tandem line of dispensers makes paper dispensing easy with their No-Touch technology, perfect for those who have their hands full (hat, scarf, gloves, etc.) after washing. 
This interest in paper may be explained by the fact that 61% of people surveyed use paper towels to open the door when leaving public washrooms. As a result, people have a better chance of avoiding potential viruses that could be found on door handles. This explains why 58% of people surveyed believe that paper towels are even more hygienic than other drying options.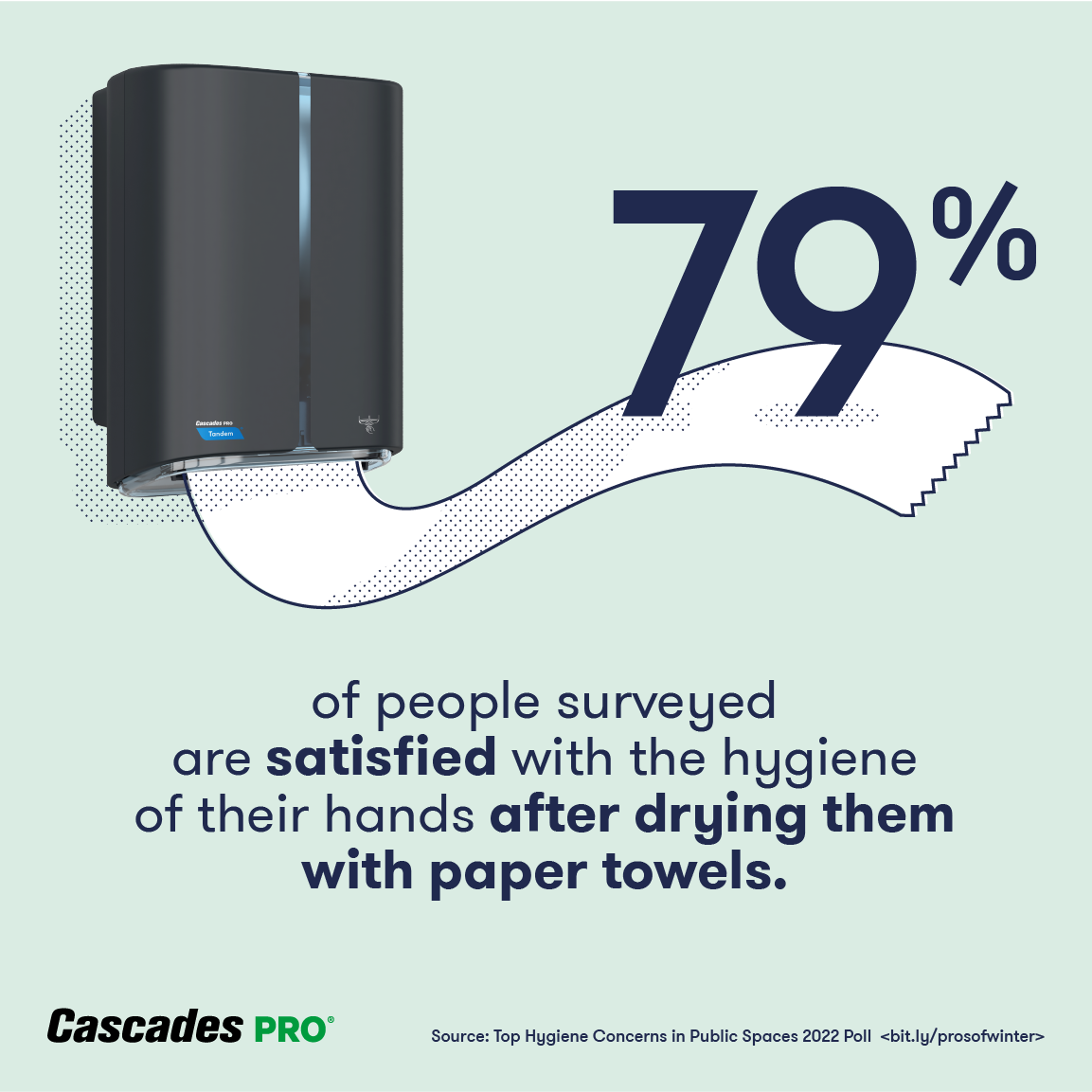 The Washroom Environment
Though there is no doubt about their hygienic virtues, the environmental impact of paper towels can be a concern for users. Indeed, according to some popular beliefs, the use of paper in this situation would be harmful to the environment. That's why, as an environmental leader in the industry, Cascades makes sure that positive and always greener actions are put in place. 
For example, their dispensers are designed to avoid waste and more than 70% of  tissue products are made from 100% recycled fiber. This means that every consumer can leave the washroom with peace of mind. 
Whether it's a question of hygiene, good habits, values or environmental protection, Cascades PRO is a sustainable solution for time spent in the washroom. A solution that can be applied to all seasons!