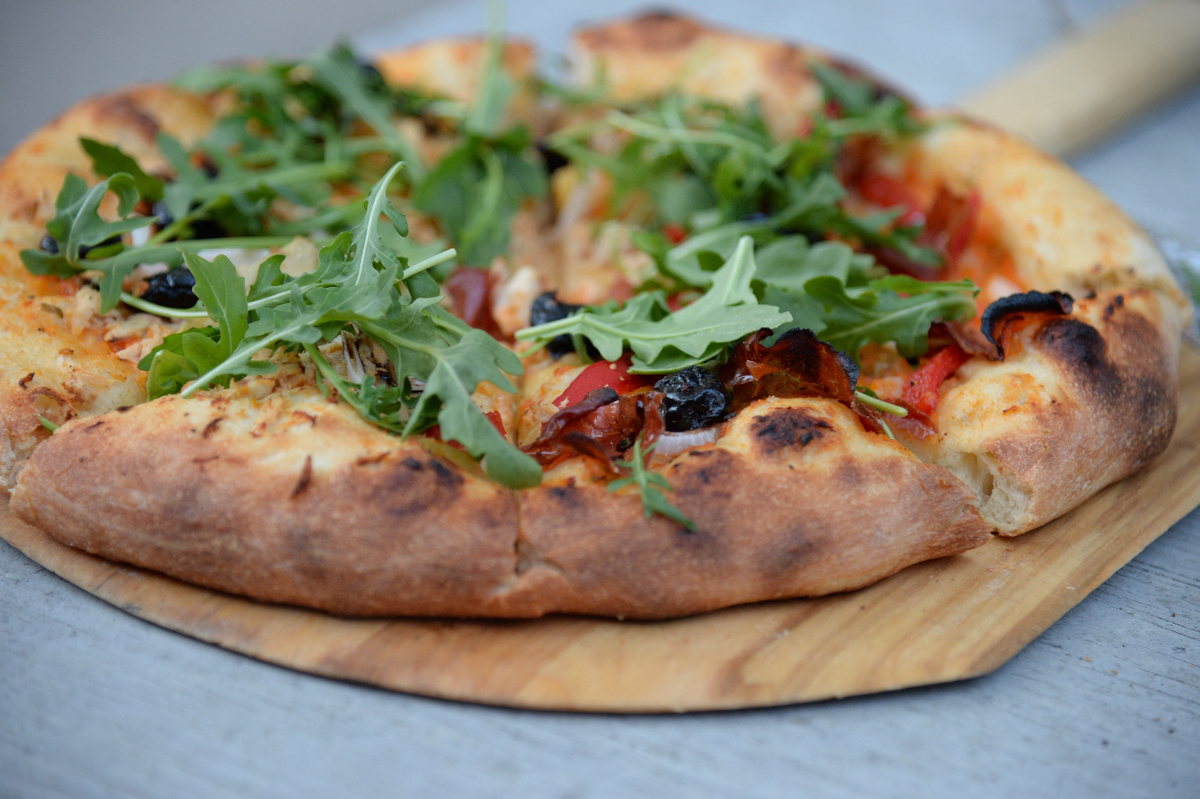 At some point before recorded history, somewhere millennia ago, wet mashed up wheat—a rudimentary dough—was flattened and dropped on a very hot rock: it was the first flatbread, our original pizza.
Pizza is a blank canvas that can accept a smorgasbord of flavours and ingredients. Its flexibility is found in a wide range of pizza restaurants, from discount two-for-one slice joints in downtown cores to wood-fired ovens with a roll-over heat of 800-degrees and on to rotating "Merry-Go-Round" Italian bell ovens that also cook pies in a matter of less than three minutes.
Capture pizza's authenticity
The ante has been upped with an increased interest in capturing the essence of pizza originality and authenticity via Associazione Verace Pizza Napoletana (VPN), an official Italian "denomination of control" (DOC) of strict regulations for making Neapolitan-style pizza that has become more popular. A VPN pizza can only use permitted ingredients and produce certain standards of thickness and crispy-chew.
The movement makes sense in an era of artisanal and "crafted" food, but VPN designation—and its associated expense—isn't necessary. Attention to detail in working with dough, good ingredients and imagination can boost an old classic like pizza to new heights.
Pizza trends
As pizza moves from its basic iteration to a more novel and inventive appetizer or main, a wider array of ingredients come into play. Standard pepperoni, onions, mushrooms and green peppers are still popular, but pizza with a light tomato sauce and a fresh last-minute addition of peppery arugula provide unique flavour notes and the "pop" of presentation at the table. The idea of "salad" on pizza appeals to health-conscious diners too.
At the concept level, in many larger centers in the U.S., the fast casual pizza joint is gaining ground having subscribed to the "Chipotle" model. It's a relatively simple model, too: customers queue up and choose from proteins, more than a dozen vegetables, perhaps a half-dozen cheeses and as many sauces and build a "personalized pie"—one that bakes in 120 seconds and sells for less than $10.
Such a concept "empowers" people and gives them the ability to create their own taste and experience. That in turn can help pizza businesses ensure repeat business.
And in a time of renewed interest in farmers' markets and field-to-fork restaurants, pizzas can have fresh seasonality too: when June rolls around, so too does asparagus—a few lightly grilled asparagus tips can be an exciting and unique veggie topping that adds flavour and texture enhancement.
Cheese is a major component, of course. Finer cheeses such as mozzarella di bufala and fior di latte, a similar cow's milk fresh mozzarella, are becoming more popular on artisanal Neapolitan pizzas. Adding feta, asiago, chèvre, provolone and gorgonzola can also provide both texture and taste distinction to your pizza. Of course, blending any of these more premium cheeses with your regular cheese is a way to increase flavour and interest while helping keep costs manageable. It gives you and your staff a story to tell guests too.
Healthy (and healthier) pizza
If there is a noticeable and clattering wind across the restaurant world, it must be phenomena like "gluten-free." More and more restaurant menus are characterized by the "asterisk effect": notations and key legends indicating GF (gluten free), LF (lactose free) or V (vegan).
The gluten free pizza crust is right up there in popularity, according to Colleen Cross of Canadian Pizza magazine.
"As for crust, gluten-free is more than just a trend," Cross said in interpreting the growing popularity based on a major pizza convention in the United States. "Pizza Expo organizers added it as a separate category in 2014 and brought it back this past March."
She has on the Canadian Pizza website that a cassava crust may be just around the corner. Of course, the crust notwithstanding, pizza can be made infinitely healthier by lowering the amounts and kinds of fats that top it. Lighter cheese mixtures with reduced fat and sodium along with more veg than meat on top of a whole wheat crust make the pizza an ideal meal or snack that many consumers are looking for.
Get social
Cross and industry analysts from Technomic write that today's young mobile phone users are a rich mine of both data and customer base. Millennials have a different mindset and don't want to be "sold at," however. They want to interact and be entertained; they are a tech savvy cohort that can do a lot of "promotional" and marketing work on behalf of your business if you can connect with them and their networks.
"In terms of social media marketing, using video to educate and entertain customers (and not just market your pizzeria) seems to be a growing area. Some online tools help you post and share videos that target certain demographics, for example," Cross said.
So by all means, take (attractive!) photos of your pizza and explain what it is (without bragging about it). Resist sending out posts to Facebook, Instagram or Twitter that are poorly composed or improperly lighted photos of your food: there is nothing more ghoulish looking and unappealing than a poor food photo. Try to get your subject matter simply yet elegantly arranged and photographed in natural light.
Use social media hashtags to categorize the content correctly and get it connected with audiences who are searching for it. An Instagram hashtag focuses more on the associated photo, while a Twitter hashtag is more concerned with a theme or a topic of conversation.
For instance, when you search #healthypizza on Twitter, you might be surprised how many people are putting cauliflower on their pies! On Instagram, you might add the hashtag #foodporn, which has had the distinction of having been the 100th most popular Instagram hashtag - that seemingly low ranking still meant it had over 10 million associated photos.
Topping trends
Virtually every cuisine in the world has a pizza-like flatbread, so accordingly world flavours are finding their way onto pizza. Eastern five-spice, Japanese togarashi, shawarma blends of cumin and cinnamon to name a few.
"Flavour-wise, Korean pizza seems to have high interest right now, with ingredients such as spicy and sour kimchi," according to Cross. "In terms of meat ingredients, I see a lot of dried, cured meats, and brining of meat, especially pork, used these days."
She writes on the Canadian Pizza website that "exotic flavours appeal to all ages: they satisfy millennials' love of travel and desire to bring home new foods to invoke memories of their trips, and stimulate baby boomers' gradually diminishing sense of taste."