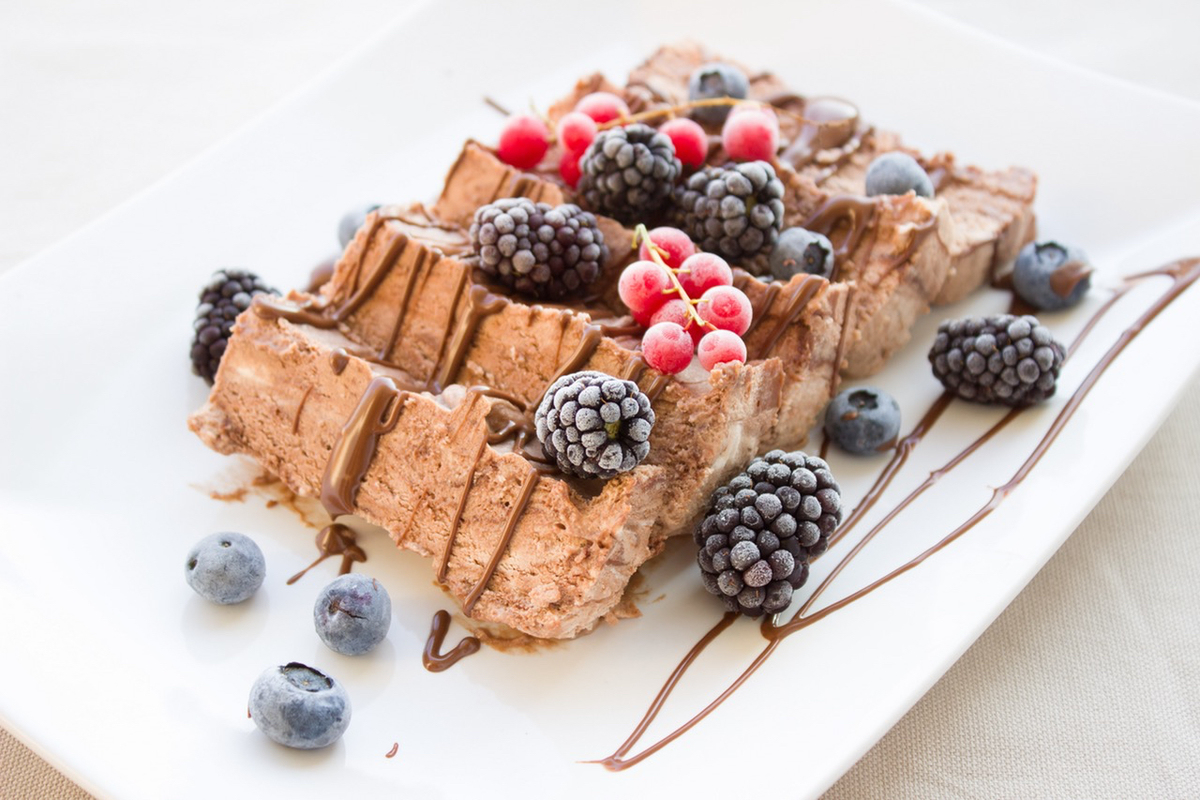 How important is the last impression (i.e. dessert) for nurturing a customer who will return to your restaurant time and time again? It's critical, experts agree.
Yet desserts don't need to be complicated. With a bit of a strategy and thinking about who your target audience is, your restaurant can boost revenue with well-thought out dessert courses.
At Flanagan Foodservice, Shayne Keary (Manager, Regional Accounts) recommends spending some time and asking some questions of yourself as to what demographic you are going after and what kind of desserts would work best in your restaurant.
Lost desserts get their just desserts
The first step is to recognize that, in a way, desserts are "pre-sold"; that is, diners often order desserts that they already know and love. They need only to be reminded of a great flavour profile and be seduced by a boosted, dynamic plate presentation.
However, operators have to keep up their end of the dessert contract. A final sweet course is too often neglected by restaurateurs, but is an addition that can find its way lucratively onto the cheque.
"Restaurateurs work on the liquor component of their business and the entree component of their business, but there is a lot of margin and satisfaction to be built into desserts," says Steve Marshall of Magnum Food Brokers. "We suggest taking a sheet-cake format which is very economical and creating a really good looking and tasty dessert with a good plate presentation."
Keary agrees that just because it comes last, doesn't mean dessert should be an after-thought for the restaurant. "It's true people head out to a restaurant for an appetizer and entree experience, not usually dessert," says Keary. "It's pretty much an impulse buy. They are looking for a treat, a decadent chocolate dessert or their favourite piece of pie."
So keeping flavours and presentation in mind, Marshall continues, can mean good margins. "A dessert helps build up a bill at the end of the night which is profitable for the server and profitable for the restaurant. Most important, the dessert is a finale for a great dining experience—one that guests will talk about and come back to," he says.
Presentation makes the ordinary extraordinary
At white-linen, fine dining restaurants, there is generally an expectation that a dessert will match the setting—and the previous courses of the meal—for elegance and presentation. However, more casual restaurants need to match their desserts with a value that will satisfy and impress guests and that includes how it looks on the plate and the flavour profile that the dessert provides.
"Just because I'm dining in a casual roadhouse-style restaurant doesn't mean I don't want to experience some level of entertainment and some level of wow-factor on that plate," Marshall says.
He points out that among the most popularly ordered items for dessert are dishes like brownies, pies, and cheesecake - precisely the things people could make or buy at a grocery store or bakery. "However, what they are going to a restaurant for is an experience and a plate presentation that they wouldn't or couldn't do themselves."
Keary notes that sheetcakes, like those from The Original Cakerie, are versatile and can be cut into many different shapes with many different applications. "Plate them on their edges and create from there. Whether it is a little coulis, whipped cream, or fresh berries, the effort can represent a very good food cost."
Train staff and talk it up
Make sure wait-staff know—and have tried—the desserts, understand their components, and can discuss their flavour profiles with their customers. Train them to talk passionately and knowledgeably about the desserts. This will be good for a bigger tip for staff and also good for the restaurateur's bottom line.
The desserts themselves should talk, too, Keary says. Boost your sales with dessert trays that display your kitchen's expertise and creativity. "Your eyes eat first so diners will very likely select from the real thing quicker than from only a menu. There is a little bit of cost involved with a tray, but the reward far outweighs the cost of those few desserts."
Even the presence of the desserts heading to another table may be enough "buzz" to entice other customers to order dessert, according to Keary. "If the table is spending $15–$20 a person anyway, why not see if you can get them to add another $5–$6 onto their check? It's a way to get some extra revenue into your business."
Be flexible
While brownie and apple pie dishes are still among the most popular desserts, flavours from international cuisines, such as Spanish, are rising in popularity at the moment, suggests Marshall.
And don't discount frozen products, Keary says: they've come a long way in the last 10–15 years and can represent excellent quality and value. "Bring some products in as a test. Plate them and let your staff taste them; they are the ones doing the selling."
Whatever approach you choose, it's important to realize that you have the opportunity to play to your guest's pre-existing "weakness." Marshall says most customers order a dessert with a flavour profile that is already something they enjoy. So, you have much of the battle won there.
A last impression
As noted, dessert is the last experience customers have (arriving, importantly, just before the bill) and is the final food impression they will have of your restaurant.
"Dessert is intriguing because coffee orders can rest on it, and specialty coffees and liqueurs can rest on it. So if you take a dessert and really put a nice plate presentation together, then the last experience the customer is having in the food component is an excellent one," according to Marshall.
If only one or two desserts are ordered, Marshall advises setting out enough dessert forks for the entire table so that everyone might sample and complete their visit on a high note. "While they're waiting, they will order a coffee. The bill builds and it gives servers the chance to work a bit more magic."