In a Stew
Add slow food to your pot during the colder months
Give your customers the pleasure of slow food in this fast-paced world. Simple, yet sublime with infinite variety, this staple of kitchens worldwide brings comfort in every bite. Slow and relaxed, evoking an island state of mind.
Stew defines you. Ethnically diverse using cost-effective (and local) ingredients, stew can warm up your menu this fall and winter while at the same time keep your budget cool.
Love cooked into every bite
Yes, the love is in every serving of stew. You can smell and taste the memories – home, family, friends, meals shared. As one-pot wonders, traditionally using simple ingredients, stew is undeniably greater than the sum of its parts and a part of every nationality.
Find a stew that tells customers your story and transports them to happiness.
Philman George, corporate chef for High Liner Foods, has a life full of stew. "Every Sunday, my mother, who hails from the Caribbean, would prepare a one-pot stew. The house would smell so good, with aromatics like thyme and ginger root."
Now, Chef Phil loves dry stew, a traditional West African dish, an influence of his wife, who is from Sierra Leone.
"It consists of taking a mix of vegetables and spices and cooking this mixture with roasted chicken legs and thighs until nearly all of the liquid has evaporated. What's left is a rich paste that sticks to the chicken," he says. As a fish and seafood-focused chef, he has adapted this stewing method and created a dry fish stew.
"Great care is taken to ensure that the seafood retains all its natural tenderness. I season and sear the seafood in cast iron and set aside. The vegetables, stock and aromatics are stewed down and seafood is added at the end. It's big time comfort food!"
Chef Phil prides himself on fun, ethnic and approachable food. His goal is to place craveable seafood on your menu and generate more profit through the "Heart of the House."
"Every culture has their version of stew. In Canada, especially on the east coast, chowders are our seafood stew! High Liner has some delicious stew recipes using cod and PEI mussels."  
As he says, "Stews are the go-to bowl for winter and fall." 
Stir up some fun with innovative approaches
"All ethnic stews can find a place on cold weather menus, when there is a focus on a single stew. There needs to be a story behind it – where the recipe comes from or a signature ingredient or cooking method the chef used to make it stand out," says James Keppy, national culinary manager foodservice at Maple Leaf.
A favourite of his is a Mexican-Style Chicken Stew with chicken thighs, black beans, tomatoes and hot sauce, finished off with sour cream and tortilla chips.
Coaxing flavour and tenderness from underappreciated cuts is the real magic of stew, he says. "Using raw boneless, skinless chicken thighs and the pork cuts from the shoulder are cost-effective options for a great stew," the chef reminds us.
Mix and match flavours and ingredients
Definitely not a thing of the past, a stew session using ingredients and flavours which do not regularly play together or crossing ethnic boundaries will create a unique stew that tells your story. If you do it right, it may even transport the ingredients to a new, undiscovered place.
Plant-based proteins will continue to drive menus. Maple Leaf's au naturel! line of products and their Lightlife Plant Based Burger and Grounds deserve a place on your stew menu. Good for you, your customers and the planet – and distinctly on-trend.
"Maple Leaf also offers turkey breasts, pulled pork and beef, and sausages (Oktoberfest, Mediterranean, Andouille and Spanish Chorizo) for non-traditional twists to a stew," adds Chef James.
With infinite protein, vegetable and spice combinations, there is a stew that is right for you and your customers. You will run out time before you run out of ideas!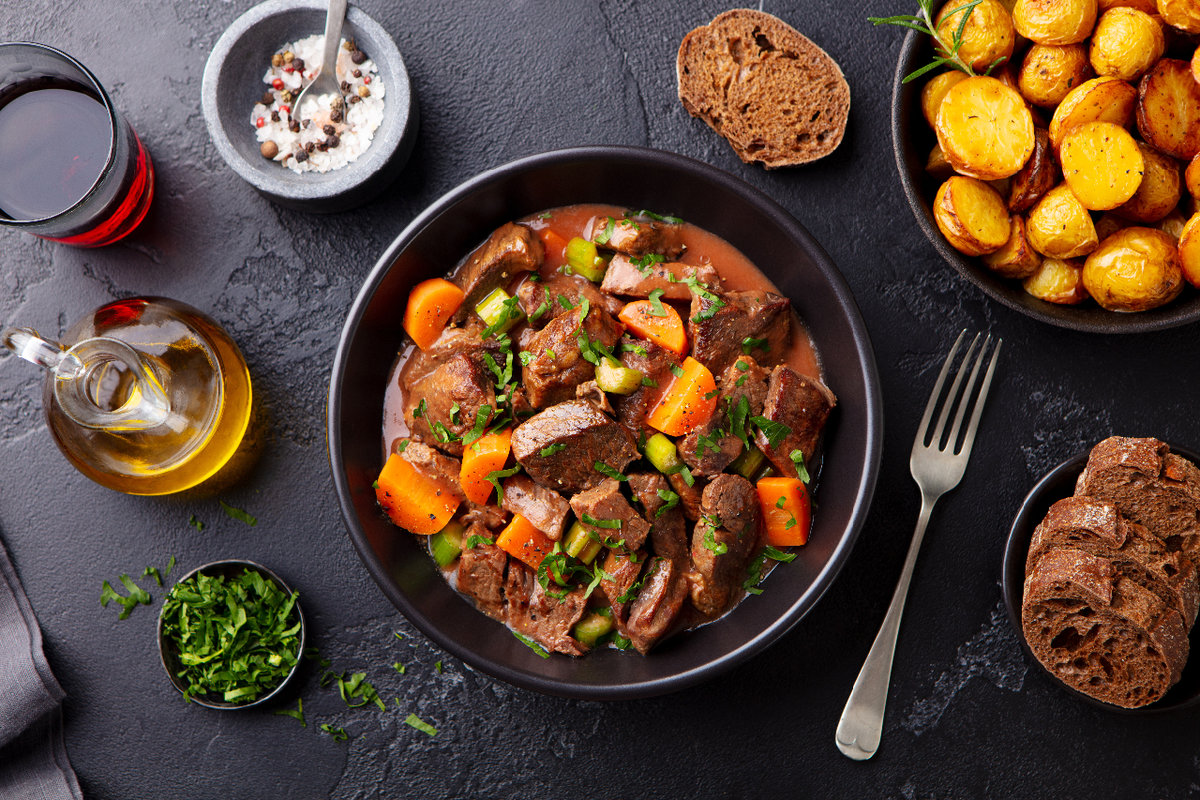 Stew tips
Think frozen. With the increasing number of dietary requests and restrictions, you may want to stew up delicious solutions that can be at the ready in the freezer. Simple additions like a hazelnut parsley gremolata add a punch of freshness and detail your customer appreciates.
Go beyond the bowl. Elevate your stew with a puff pastry topper, drop in some signature dumplings or pull out a vegetable and showcase on top. Present with artisanal breads (great for getting every last morsel), mash, steamed grains, polenta or pasta.  Or when in doubt, serve with more veggies.
Consider the upsell. "Remember that shrimp is the most consumed seafood item in Canada. So, no matter what stew you've made in your establishment, upsell that stew with the addition of shrimp," says High Liner's Chef Phil.
Your time-starved kitchen deserves a break. Stew, a hands-free, budget-saving option that tastes even better the next day is the perfect solution. Don't you worry about a thing, because in a stew, everything is going to be alright!
Try veggies (and fruit) first
Stews can showcase delicious locally available ingredients throughout the fall and winter months. Creatively choose seasonal options and design a stew around them, maybe a specific farm-focused flavour profile.
Customers increasingly crave food transparency, even for their fruits and veggies. Why not choose your veggies and fruit first? For instance, the humble rutabaga (not the same as turnip) soars out of obscurity in a spice-drenched Tagine.
Fruits deserve a spot in the pot, too. Apples, peaches, pears and plums add sweetness and a native flavour. How about Rhubarb Koresh, for instance? A fruit stew is a new approach to the dessert menu in the colder months.
Using seasonal vegetables and fruits in stew makes sense – and cents – cost-effective, locally sourced, with a twist on the flavours of home. Keep customers coming back for seconds and thirds. 
TRY THIS RECIPE:
Written by Cherie Thompson