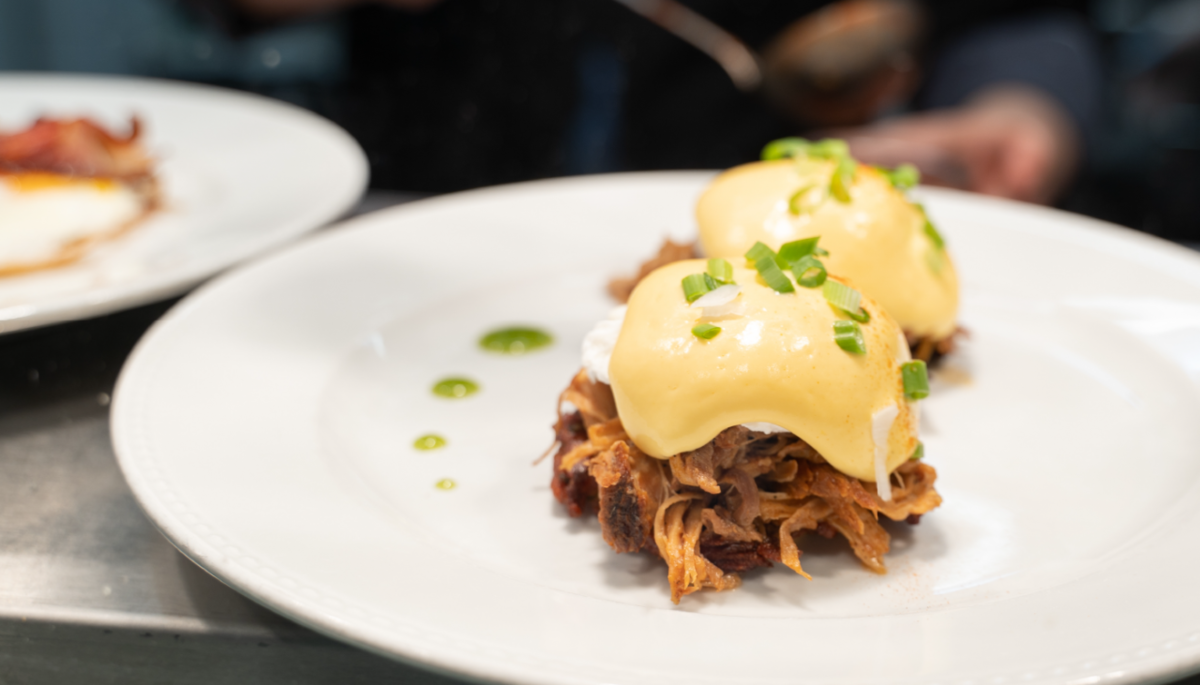 With a cooler breeze in the air, favourite fall flavours are back on restaurant menus. Though appetizers, entrées and desserts typically get the love when it comes to seasonally updating your menu, brunch offers the perfect opportunity to celebrate the new season.
Fresh produce like apples, pumpkin and squash were made for pairing with comfort food brunch staples like waffles, fritters and French toast.
Highlight fall's best by spicing up your brunch menu with spiced apple muffins, baked oatmeal stuffed acorn squash (served with cranberry sauce), or pumpkin pulled pork eggs Benedict.
Keep It Simple
LUDA's Instant, Gluten-Free Hollandaise Sauce Mix features a slightly sweet flavour with lemony notes and butter flavour. It's as versatile as it is vegetarian and certified Halal and Kosher.
Steam-table and freeze-thaw stable—no butter needed! The product prepares an opaque, medium thick, light yellow sauce, and its mild and slightly sweet flavour is balanced with a little heat and lemon notes.
Recipe: Pumpkin BBQ 
Pulled Pork Eggs Benedict
Yield: 8 servings (2 Benedicts = 1 serving)
 
Ingredients
Pulled Pork:
2.7 kg JMS Fully Cooked Natural Pulled Pork
2 tbsp Olive oil
1 cup White onion, diced
6 Garlic cloves, diced
3 cups Pumpkin purée
2/3 cups Balsamic vinegar
1/2 cup Molasses
4 tbsp Ground mustard
To taste Salt and pepper
Hollandaise Sauce:
2 cups LUDA Instant Hollandaise Sauce
Benedict Assembly:
16 Eggs
8 English muffins, split
16 Fresh sage leaves, thinly sliced
2 Green onions, thinly sliced (for garnish)
Instructions
Pulled Pork: (From tempered state) Oven: Remove from pouch. Heat in oven at 350°F for 20 minutes. Boil: Drop pouch into boiling water for 15 minutes. Microwave: Remove from pouch. Heat for 8 minutes.

Pumpkin BBQ Sauce: Heat a pot over medium heat. Add olive oil and onions, cooking until translucent for about 5 minutes. Add in the garlic and cook one minute more. Add the remaining ingredients and cook for another 5-7 minutes. Blend contents until smooth and combine with prepared pulled pork.

Hollandaise Sauce: Add mix to 3/4 of 4L hot water, stirring vigorously with a whisk. Add the remaining water, stirring. Heat and then hold above 65°C (150°F). Stir before serving.

Benedicts (to order, 1 serving): Poach eggs to order. Meanwhile, heat pumpkin BBQ pork mixture (if applicable). Toast split English muffin until golden brown and top with 1/8 pork mixture, a sprinkle of sage leaves, poached egg, hollandaise and sliced green onion.