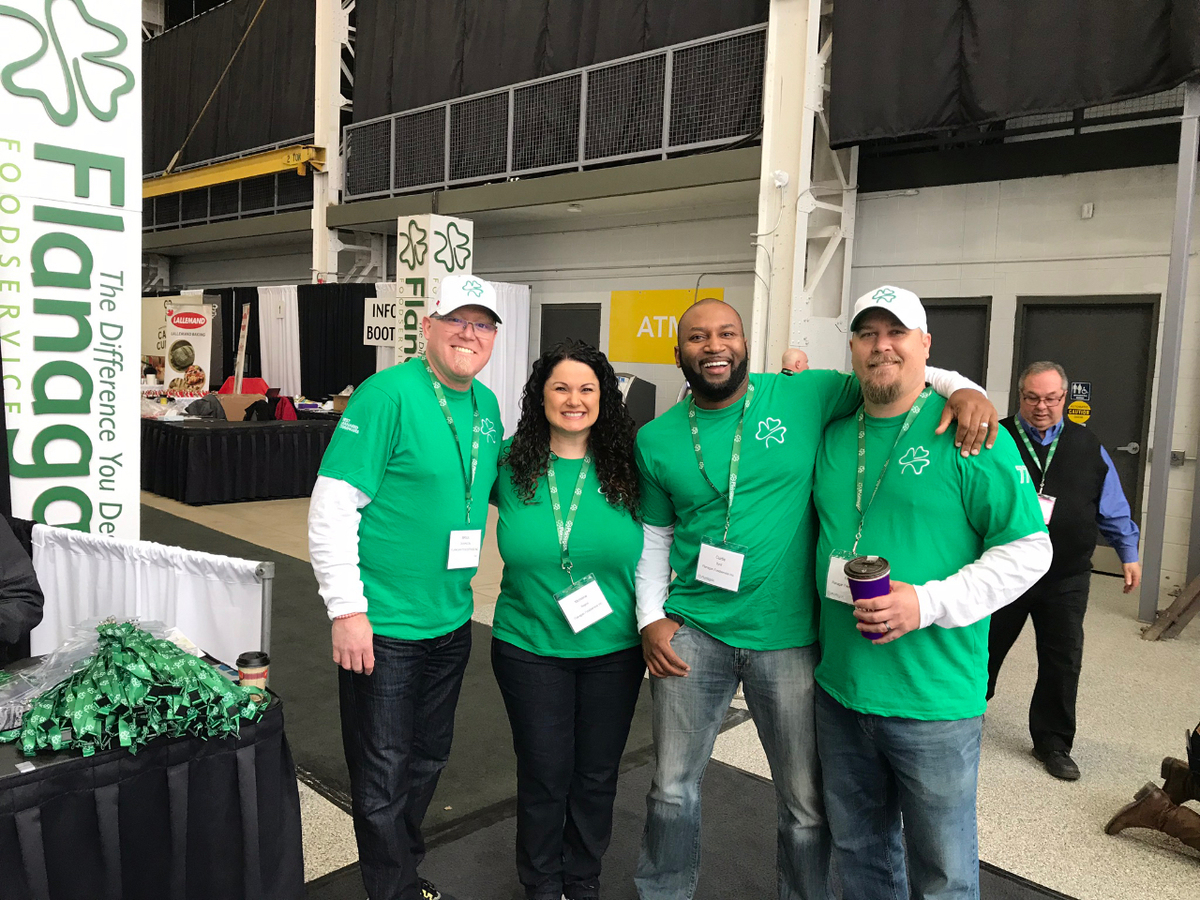 Each spring, thousands of people gather at the Flanagan Food Show to visit, sample unique new products, network with industry leaders and get exclusive show deals on a selection of products.
It was our 37th year hosting the show, and this year's was amazing. There was a buzz of excitement in the air as members of the industry came together to celebrate and learn about all things foodservice.
Because there is so much to see and taste (everyone's favourite part) in just one day, we've recapped highlights of the show for you.
We sampled new products, learned new trends from each presentation, and had the chance to chat with vendor reps about what's new and exciting in the world of Canadian foodservice.
Food Show Products
By Jackie Oakes
I'm Jackie, Senior Marketing Manager at Flanagan's. I was able to visit many booths on show day and wanted to share some of my favourite discoveries:
Tamper-Evident Carry Out Bags

Flanagan code: 504489

 

These bags protect food from being tampered with when being delivered.

 

Recently I heard a story where a third party delivery driver was helping himself to some of the food he was delivering. I am sure most drivers aren't—but this stuck in my head so I was very pleased to see these bags at the show. It is a large bag that permanently seals when the food is packed. Once delivered, the customer simply removes a perforated area of the bag and takes their food out. 
It has a write-on block allowing operators to identify the customer or order number.They also offer custom print the bags; minimum case order is 250 cases.
McCain Avocado Wedges and Root Vegetable Medley
Flanagan codes: 199024 and 193039

McCain actually had four new products that I enjoyed sampling, but I forced myself to choose my two favourites to share with you:
Avocado Slices
YUM! Menu penetration for avocados are up 32% over the past four years and this breaded avocado is a great appetizer or addition to a burger. This provides operators an easy way to handle avocado, which can be rather temperamental.
Root Vegetable Medley
A tasty, unique twist on a traditional fry.  Carrots, parsnips and beets are cut and lightly battered.  Presentation is beautiful on the plate!
Carole's Cheesecake on a Stik
Flanagan codes:

Matcha Green Tea – 107921
California Almond – 107919
New York Classic – 107933
Belgium Chocolate – 107934

 

Well HELLO, cheesecake on a stick!

Delicious, only 190 calories each, and available in four flavours: Matcha Green Tea, California Almond, New York Classic, and Belgium Chocolate.
This is the perfect product to allow your guests indulge, while not breaking the calorie-bank. Today's consumers are time strapped and want convenient foods that are easy to snack on. This product would work great in a location marketed as an afternoon snack.
Mini Deep Dish Pepperoni Pizza Appetizer and Chicken Quesadilla Appetizer
Flanagan codes: 187791 and 187785

Brom Mise en Bouche was not a company I was familiar with before the show, and I was eager to try their appetizers. With more than 20 years' experience in food manufacturing, their line of hors d'oeuvres and canapés were delicious!
My favourites were the pizza-style mini tartlet with pepperoni and cheese and the tortilla dough cone filled with chicken, strong cheddar, peppers and onions.
Strawberry Peanut Stick, Raspberry Chocolate Danish and Sweet Potato Bun
Flanagan codes:
Strawberry Peanut Stick – 107549
Raspberry Chocolate Danish – 107565
Sweet Potato Bun – 126150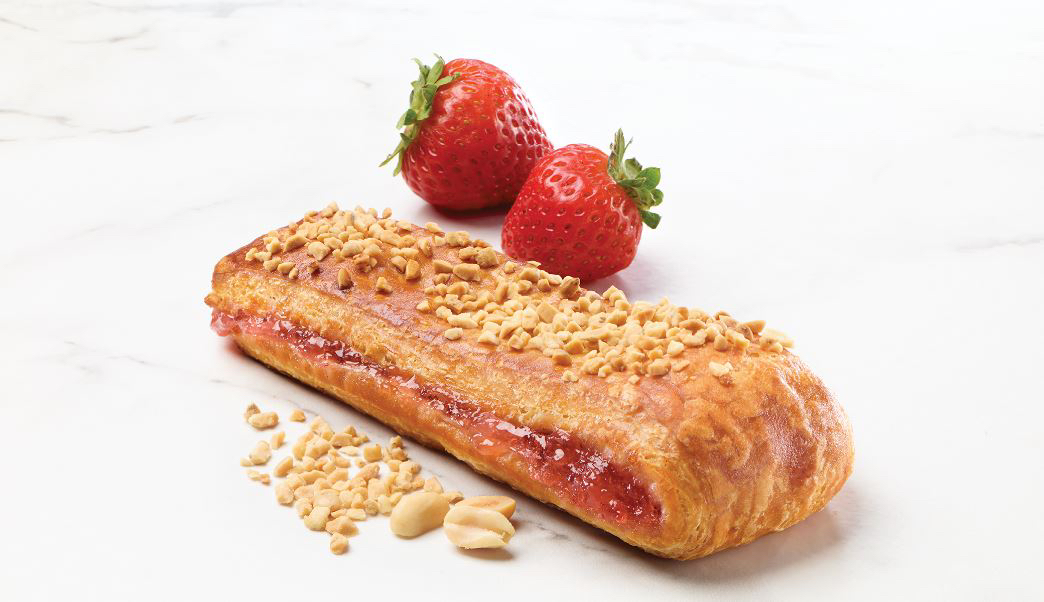 The Bridor story began in the 1970s, when Louis Le Duff moved from France to Quebec and couldn't find a pastry to equal that in France. He opened in his first bakery in 1980 and has been developing high quality breads and pastries for over 30 years.
Bridor just launched a Strawberry Peanut Stick to mirror the attributes of a peanut butter and jam sandwich, which was scrumptious!
I am hard pressed to pick between that and the chocolate raspberry Danish. I was very excited about the sweet potato hamburger bun. The taste is very subtle, making this bun ideal for a pulled pork sandwich.
MadeGood Gluten-Free Chocolate Chip and Sweet and Salty Granola Bars
Flanagan codes: 
Chocolate Chip – 364538
Sweet and Salty – 364539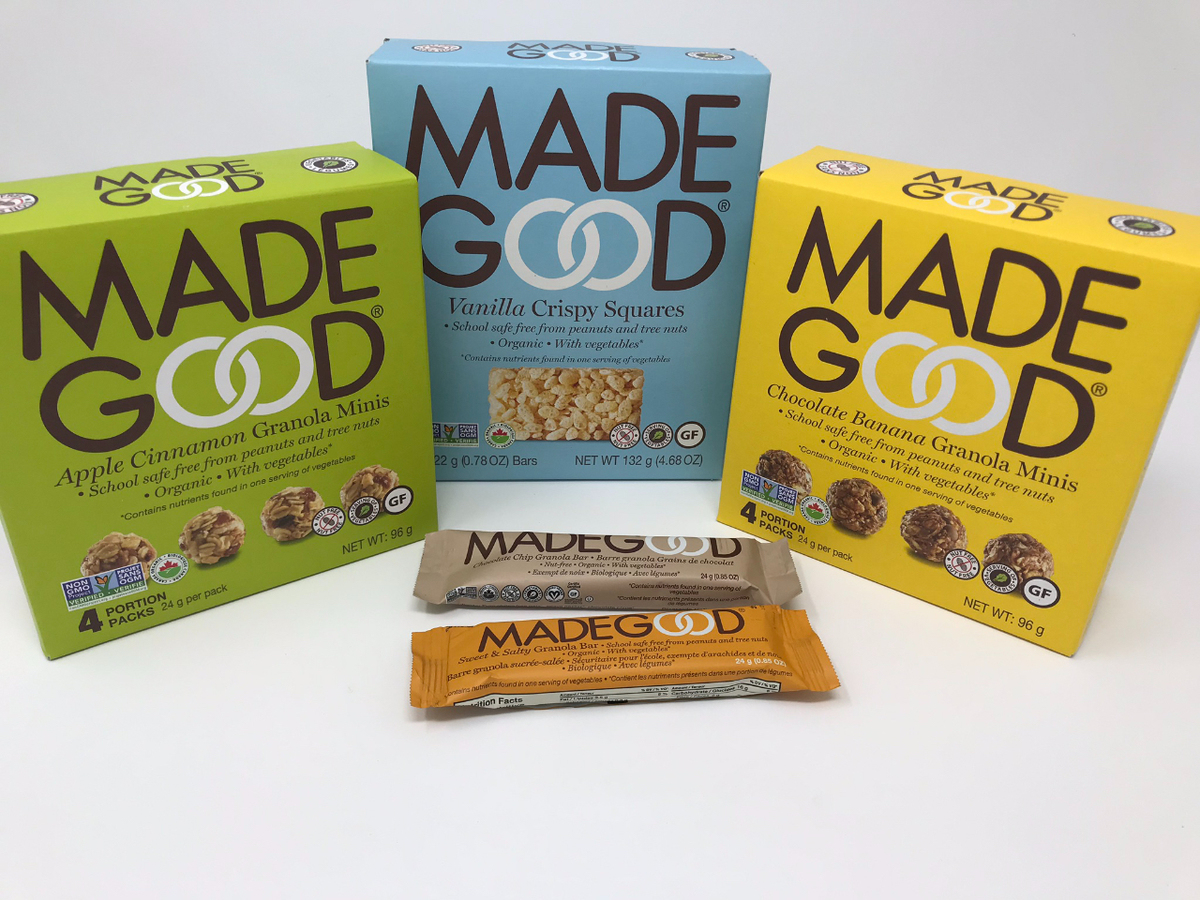 Made Good has a great story, leaning on healthy food as well as being an inclusive company. Half of their employees—from management to production—are women. Newcomers to Canada and people from under-represented groups enjoy a sense of belonging at MadeGood.
With one full serving of vegetables from six different sources, the vegan granola bars are a great source of fiber, vitamins, and minerals, which can help contribute to a healthy digestive and immune system. 
Wings' Uncooked Ramen Noodles
Flanagan code: 119450
What is great about this traditional ramen noodle is that the product comes pre-portioned in a case of 24. Each package is 100 grams. It can be used in soups or as a cold noodle salad.
Here is a Ramen Chicken Noodle Soup recipe using the product:
Ingredients
4 bundles Wing's Ramen Noodles
5 L chicken broth
1 inch ginger
6 boneless skinless chicken thighs
1 tbsp. canola oil
2 tbsp. Wing's Soy Sauce
1 tbsp. sugar
1 carrot cut into match sticks
2 hard-boiled eggs, cut in half lengthwise
2 green onions, chopped
4 tsp. sesame oil
Preparation
In a large pot, bring chicken broth and ginger to a boil then reduce heat. Simmer for 10 minutes.

Meanwhile, slice chicken thighs.

Heat canola oil in a large frying pan over medium high heat and add chicken.
Once chicken pieces are fully cooked and have a nice sear, add Wing's Soy Sauce and sugar. Continue frying until chicken evenly coated.

Boil Wing's Ramen Noodles in lightly salted water. Drain, and portion into serving bowls.
Add chicken broth to noodles, and arrange chicken, carrots, egg, and green onions on top.

Drizzle with sesame oil and serve.
Serves: 4
I'm Katrina, Marketing Specialist at Flanagan's.

 

There were so many delicious new products showcased on April 10 at our Kitchener show that I had trouble keeping my summary concise. These were my favourites:

 
Beyond Sausage by Beyond Meat
Flanagan codes: 

Original Brat – 177000
Hot Italian – 177002
Sweet Italian – 177004

 

Walking into the show, the Beyond Meat booth was high on my list of vendors to visit. I was so excited to try the Beyond Sausage and it did not disappoint.

 

Though I'm not vegetarian, the Beyond Burger has been my A&W go-to order since it was released. The Beyond Sausage has the same attributes as the burger in that it has a similar texture and taste to that of its animal protein counterpart.

Beyond delicious.
Wow! Factor's Sangria Cake, Reese Peanut Butter Blondie, and Vegan Chocolate Torte
Flanagan codes: 
Sangria Cake – 104169
Reese Peanut Butter Blondie – 104154
Vegan Chocolate Cake – 104175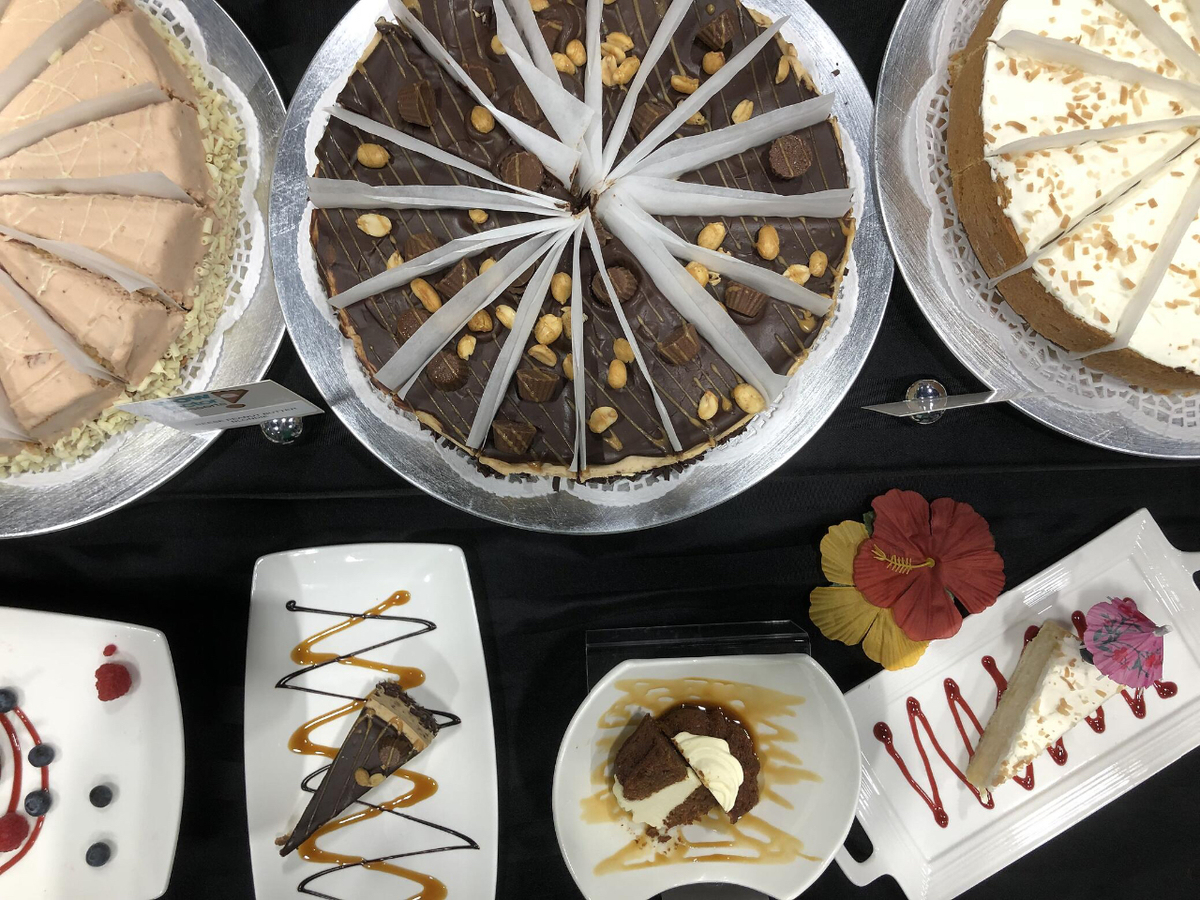 Wow! Factor was another booth I didn't want to miss. I featured the Reese Peanut Butter Blondie in an issue of our New Product Newsletter shortly before the show, and I had to try it for myself.
Wow! Factor has released five unique new products for spring 2019, and these products were three of them.
The Reese Peanut Butter Blondie tastes exactly as you'd imagine a Reese candy would taste in cake form. In other words, decadent.
Their Vegan Chocolate Cake is comprised of mostly plant ingredients, and the Sangria Cake is heavenly, fresh, and chock-full of summer berries.
Cavendish DeliverCrisp™ Fries

Flanagan code: 193130

This year, Cavendish debuted their DeliverCrisp™ fries; a skin-on, straight-cut fry that maintains its crispiness for 30 minutes while en route to your customer's door. 55% of restaurant delivery occasions are incremental orders, and right now French fries are the fastest growing food item in delivery. No matter what serving container these are packaged in, DeliverCrisp™ fries are designed to provide an unprecedented hold time.
Fully Cooked Chicken Wings
Even better: this product qualifies for Brand Points Plus, and until June 30 you can earn 5 bonus points for each case purchased!
Flanagan code 164494

Reuven International featured their new Fully Cooked Wings (exclusive to Flanagan!), and they were incredibly tasty as is, without any seasoning.

 

These wings are prepared straight from your freezer to the fryer and ready in less than five minutes. Because they're fully cooked, you eliminate any food safety concerns and minimize fryer oil degradation.
KIND Bars
Flanagan code: 164494

Peanut Butter & Dark Chocolate – 177000

Almond Sea Salt & Dark Chocolate – 177002

Almond & Coconut – 177004

 

Kind, indeed. KIND bars are all about simplicity. With no artificial sweeteners or added sugars, these bars are nutrient-dense without compromising flavour.

 

Speaking of flavour, the three that were featured at the show were delicious; Peanut Butter & Dark Chocolate, Almond Sea Salt & Dark Chocolate, and Almond & Coconut.

 
The Deals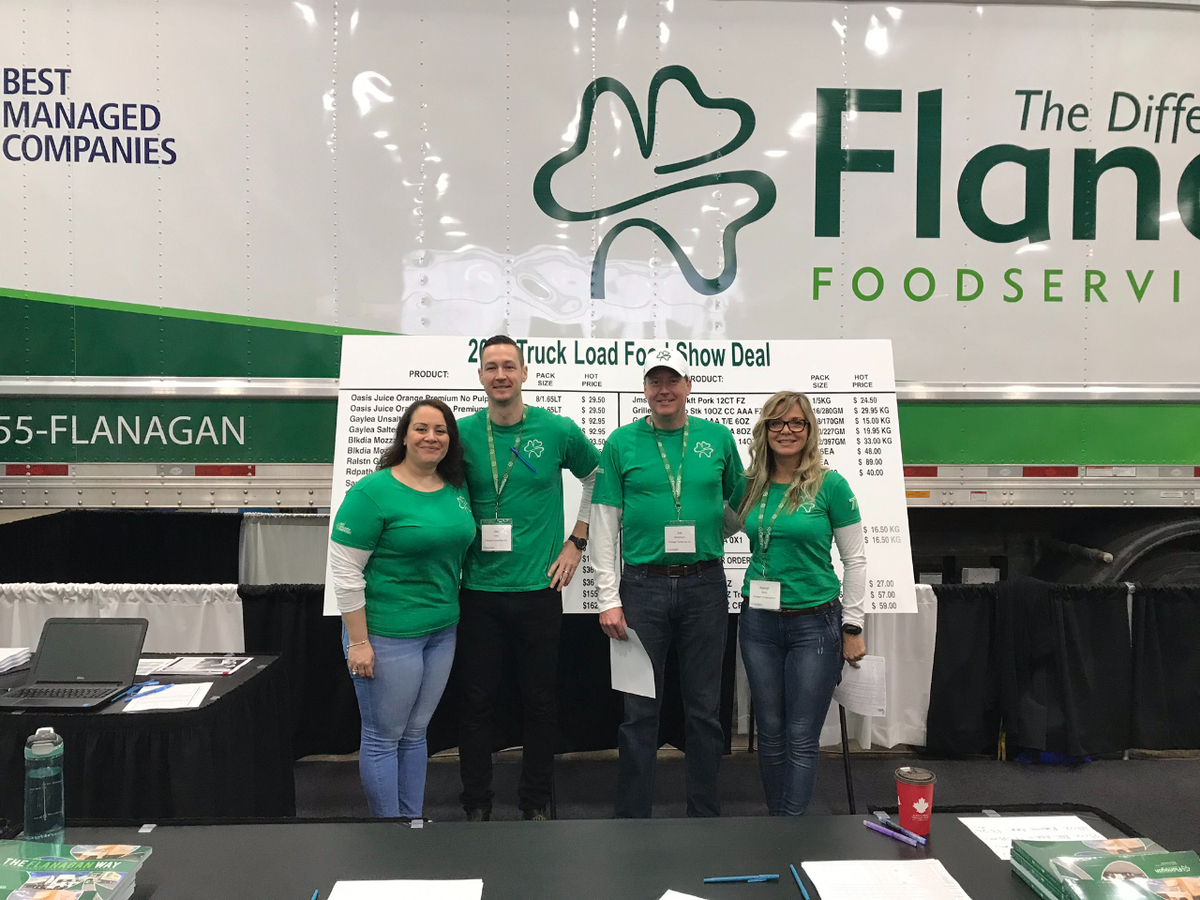 Once again, we had a Truckload Deals section in the centre of the show floor that featured one-day-only deals on select products. Flanagan customers placed their orders on the spot, and saved anywhere from $0.50 to $18.00 per case (or portion, depending on the product).
Products with deals included Grille & Galley Gourmet steak, Redpath sugar, Gay Lea salted and unsalted butter, High Liner seafood, and a variety of smallwares.
Though the Truckload Deals were one-day-only, show pricing applies for six weeks past show date; reach out to your Territory Manager for more information or call Customer Relations at 1-855-FLANAGAN.
Thank you to all guests, vendors, presenters and staff for another wonderful show season. We look forward to seeing you in 2020!