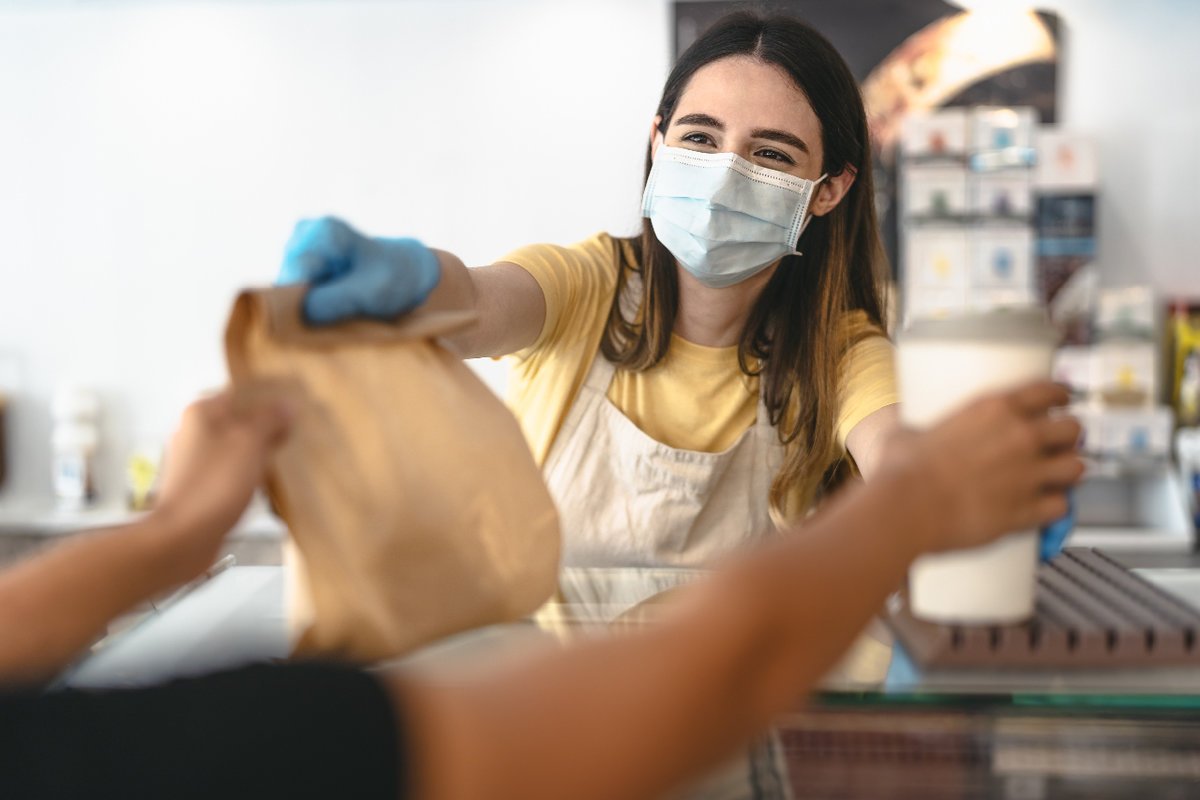 How are servers – and other restaurant staff – connecting with guests now that they have to wear face masks and avoid contact? And how do guests know when servers are smiling?
The personal touch is a key part of the restaurant experience, but new safety protocols have upended that experience. Servers need to work extra hard to create that feeling of welcome. Has the thumbs-up become a new form of communication between servers and guests to signify satisfaction? Or has "eye talk" become the norm? And how are operators training staff to replicate the warm, welcoming feeling of the "old days"?
"Smiling is part of service," says Jeff Dover, Principal at fsStrategy Inc. "So, with masks, eye contact is important." Masks can be adapted, he adds:

Top Tips
Customize the mask with a smile on it or something appropriate to your brand –have some fun with it and turn it into something positive.
"I have seen masks with clear plastic in the mouth area allowing for smiles."
Have staff wear a pin or button with their picture on it (smiling and friendly of course).
"The first customers (are) comfortable dining out and looking forward to it," he adds. "The next wave will include diners that are a little tentative and worried. Service, as we perceive it, will change."
Changes to server communication need to be part of a bigger strategy of letting guests know what you are doing to keep them safe.
Here are other tips from Dover for servers adjusting to the new restaurant normal. Many of them, you have probably already instituted:

Top Tips
Don't pre-set tables. Bring sanitized salt and pepper, cutlery etc. after guests have been seated.  
Have sanitizer in the dining room at all server stations.  
Make sure servers sanitize regularly – after placing orders, etc.  
Offer wrapped plastic cutlery for those who request it (many won't take you up on it if you have regular cutlery, but the offer will be good for those a little uncomfortable and will show all customers you care about their health.
Use disposable menus. Servers should make a point of letting guests know that menus will not be used again.  
Have your menu available online and mobile-friendly for those who don't want to touch menus.
"…it is about making people feeling comfortable dining again," Dover says. "I also think thanking them for coming back and supporting your business will go a long way and be appreciated.
About the writer
Jane Auster is the editor of ChefConnexion.com. She has been a foodservice writer and editor for more than 30 years. Jane was the editor of Your Foodservice Manager, a national magazine for professionals in the foodservice and hospitality industry in Canada, and FoodBiz.ca digital site. She was also an editorial consultant and managing editor for the relaunch of Flavours magazine.
Visit chefconnexion.com for more articles