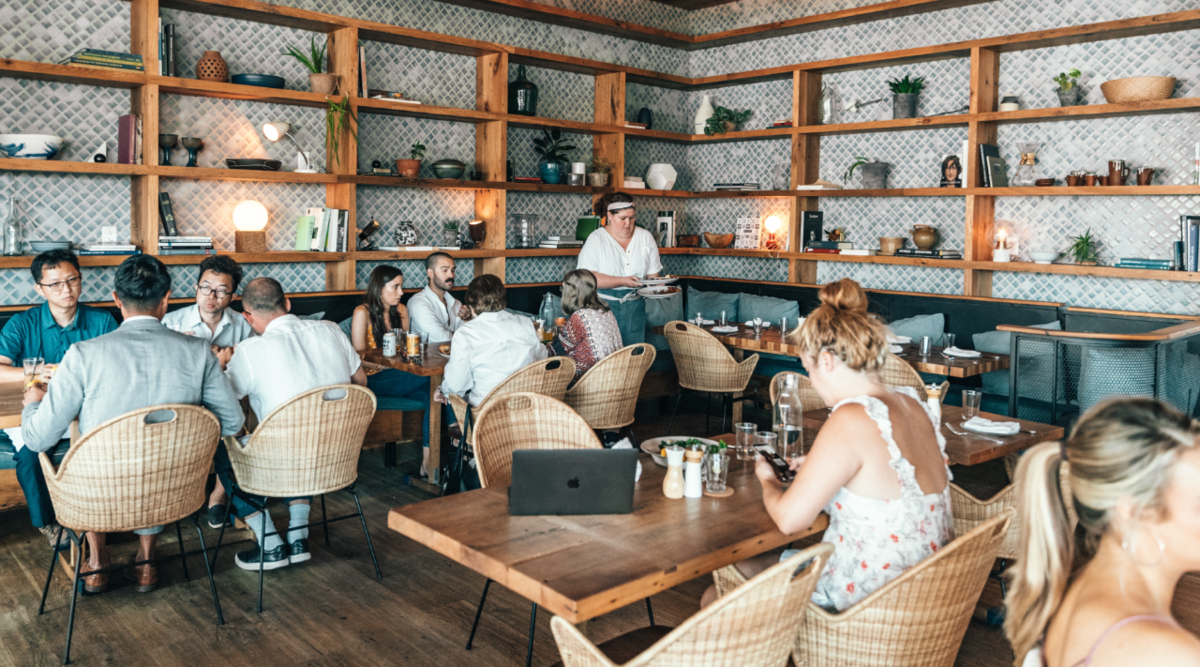 Upselling: on the one hand, it might seem like you are being pushy; on the other, think of it as an education process and one that gives your customers information about menu items they may not be thinking about (or were afraid to ask about).
The sooner your wait-staff recognize the value of upselling and can upsell with sincerity, the sooner your bottom line will be healthier. Another bonus: your staff will be happier when their cheque average increases along with their tips.
It's a question of psychology as much as anything else. People are shy, timid, and can feel guilty when it comes to ordering dessert after a meal. When you ask them point-blank if they'd like dessert, it leaves them with an easy "yes" or "no" answer. It will be much harder for them to refuse a server's pleasant story about a dessert told with a wink and a smile. For example: "I love our chef's chocolate mousse cake. It's made for chocolate lovers. People have said it has changed their lives."
Know your menu and be suggestive
Suggestive selling is a sales technique that might encourage your customer to purchase an additional item (like a side or dessert) – it is used to increase purchase amount.
When it comes to dessert, customers may be a little more hesitant to outright ask, especially after a substantial meal. By prompting customers with dessert item suggestions, recommendations and personal favourites, it breaks that silence.
Effective suggestive selling means being knowledgeable about the food you're selling. Does your staff know the menu as well as you do? Can they make recommendations that will result in a sale? It's important that your wait staff try everything on the menu from entrées to desserts.
Recognize that guests attend your restaurant for an experience that they cannot recreate at home, whether it be your signature appetizer or upscale, fine dining atmosphere. In order to get this experience, customers are eager to talk to your restaurant staff to learn more about the menu and its special dishes; if your wait-staff delivers, therein lies the upsell.
When all is said and done, staff training is key, especially in light of more educated customers who refer to themselves as "foodies" and ask with confidence about menu details and for suggestions from staff. You do not want to get caught not seeming to know what the menu items are like and how they are prepared.
Of course, the wine list and beer and cocktail menus also require attention when it comes to server knowledge and upselling. If you have wine suppliers visiting your restaurant, take advantage; ask them to discuss their products and do some tastings.
Talk and get your just desserts
[Supersize Guest Cheques blog_cake image] Ah, desserts: they are the last impression—visual and taste—that your customer has of your restaurant. So upsell guests on dessert and make sure that what they buy positively dazzles on the plate.
It is also important to focus on plate presentation. It doesn't have to be overly dramatic, but a brownie on a plate at a restaurant has to look much more enticing than what customers could eat at home. He suggests working with wait-staff a bit on plate presentations for desserts that add entertainment value.
As well, give your customers dessert menus at the right "dessert moment" – don't include them with the food and beverage menus. Make sure wait staff are talking about coffees and special coffees with dessert as they are clearing the table at the end of a meal. It doesn't need to be a hard sell, just a suggestion before walking away. When you return, the response can be surprising; you may see your dessert and coffee sales jump 20 per cent if your staff does this for each table.