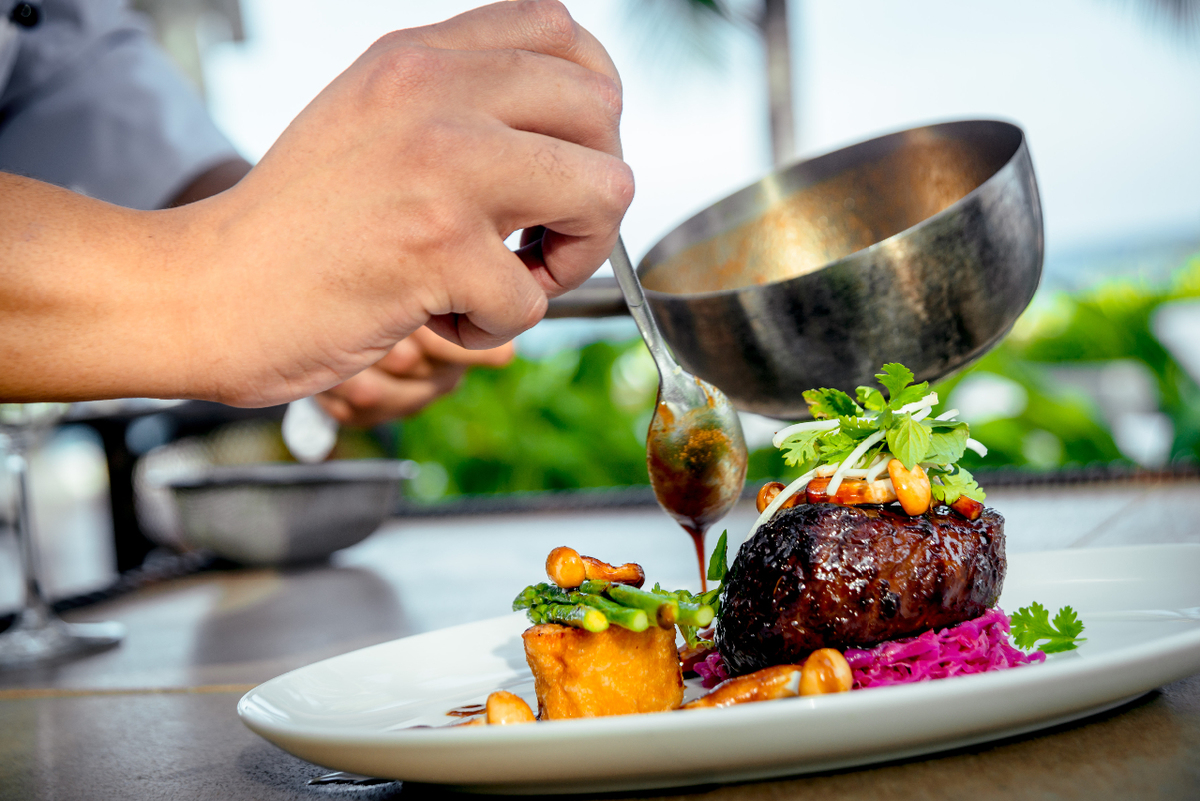 Chef Technologist Paul Torrance oversees bloom. restaurant at the Waterloo campus of Conestoga College. As a certified Chef de Cuisine who teaches in the school's culinary program, Torrance sees sauces as critical to boosting the value of virtually any dish, and at the same time, helping showcase your restaurant and the cooks who work there.
Sauces turn the ordinary into the extraordinary, where a humble chicken breast can evolve quickly and inexpensively into a finer dish.
Sauce doesn't need to be difficult, and there are alternatives. Though the thought of sauces scares some operators—either they don't have the time or the skill and knowledge in the kitchen—sauces can increase your bottom line. They aren't just for high-end dining, either. Use a wide variety of sauces like basil pestos and aïolis for paninis; it's the sauces like these which can turn any item into your signature sandwiches.
Trending sauces that closely resemble popular condiments (such as aïoli, mayonnaise, and mustard) have been revived to top everything from flavourful cuts of meat to vegetables to pizza. Sriracha's popularity continues to influence chefs and foodservice operators to find the next hot (literally and figuratively) global sauce.
Fruit sauces are also being modernized with savoury and spicy infusions. Think bright citrus with miso and soy sauce, and sweet pineapple combined with fiery habanero flavour. Fruit sauces featured on menus are also great seasonal indicators. It's another valuable way to promote support of local farmers and commitment to ingredient freshness.
According to Torrance, there is a comfort-food appeal to sauces in that great chefs just about anywhere will recall "sauce with food" memories growing up as a cook, including simple sauces like Hollandaise or mayonnaise. There may only be three or four ingredients, but it's more the technique and skill to produce it that makes the difference.
It's important to remember that presentation matters, too. Customers "eat with their eyes first," and though the sauce might be last on the plate, it is the first thing the diner notices.
Top 4 trending sauces in Ontario:
Red Wine Jus
Sesame Sauce
Mango Sauce
Worcestershire
Top 5 fastest-growing sauces in Canada:
Mignonette Sauce
Chickpea
Halibut
Fennel
Bechamel
Technomic Menu Monitor; Canadian operator purchases, 52 weeks ending September 2017.