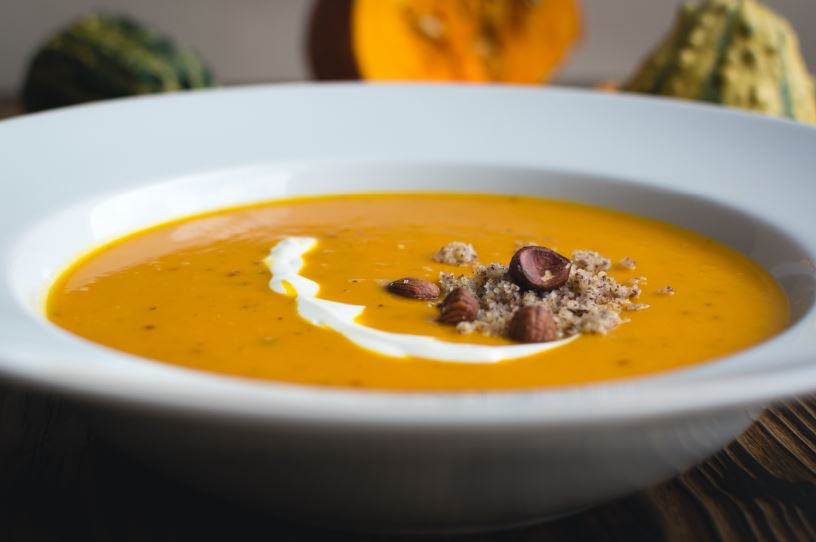 Working with soup bases can save you time, labour and money. Two experts share their chef tips and soup-er recipes. 
A good soup base can be an immeasurable asset to the foodservice kitchen. It adds depth of flavour to dishes, can be built upon to create signature recipes and eliminates the cost of raw ingredients required to make a consistently flavourful stock.
There are many advantages to using a soup base as the platform for soup innovation:
1. Time- and labour-saving
Making the switch from scratch recipes to "speed scratch" recipes, including those using and building on a good soup base can mean significant time and labour savings for operators. "Scratch made stocks, and sauces derived from these stocks, can take hours of skilled labour," says Kyla Tuori, corporate chef at Unilever Food Solutions.
"The cost of raw ingredients used to make a consistent flavourful stock can be a hassle, as well as the storage needed for these raw ingredients."
2. Cost-saving
On the rising cost of labour across North America, Gerald Drummond, executive chef, North American Foodservice, Campbell Soup Company, says, "As minimums continue to increase, chefs and operators need to be creative in driving down costs while continuing to give customers creativity. It's always a delicate balancing act.
3. Inventory-saving
"Having a good-tasting and well-balanced base helps the operator have greater variety on the menu while not increasing their inventory," Chef Gerald continues. "It allows for the ability to offer multiple menu items while using the same product, as well as being able to stay relevant when it comes to food trends."
4. Creative
What makes a good soup base? Beyond lending great flavour and aroma to dishes, Chef Kyla says, "a good commercial base is a concentrated product meant to be diluted to mimic a scratch-made stock (yet is also) so much more, and can be used for seasoning, marinating, and enhancing other scratch-made recipes."
When it comes to which base(s) to choose, knowing what you want to achieve will help dictate what is important to look for. "Not all soup bases are created equal, or alike," she continues. "With the variety of formats, ingredient decks, and (nutritional or special diet) claims, there is a base for every application and operator."
5. Versatile
Beyond soup, many soup bases can be used in a variety of applications. Chef Gerald suggests turning a cream soup base into sauce for flatbread or pizza, Alfredo sauce for pasta or as a rich and flavourful base for chicken pot pie. "Powder bases can be used in their raw form for seasoning dishes," says Chef Kyla. "Since these bases are often 'salt first' in the ingredient decks, they can add a lot of flavour where it may otherwise be lacking.
"Paste bases, due to their consistency and 'ingredient/meat first' ingredient decks, are great for rubs and marinades," she adds. "They will adhere easily to the item that you are marinating and infuse it with flavours. Liquid concentrated bases can be used for seasoning dishes, marinating, glazing, and as a finishing enhancer. They are the most versatile of bases due to their consistency and flavour complexity."
It's time to soup up your creativity in the kitchen, as well as your profit margin, with the addition of soup bases.
A simple way to make soups feel fresh
Garnishing is a simple way to make soups feel fresher, more premium and more delicious. Patrons perceive garnished soups as higher value, so you can charge up to 25% more!
Step up your presentation with these garnishing ideas using Campbell's Signature Soups:
Beef Pot Roast
Add texture with sautéed garlic chips, crouton lardons, creamy aioli or horseradish. Sprinkle with minced thyme and marjoram for extra flavour.
Broccoli Cheddar
Go for the green with broccoli florets, green onions or chives. Add indulgence with sharp Cheddar cheese crisps.
Buffalo Style Chicken with Blue Cheese
Top with sour cream and minced chives. Or make it hearty with sliced chicken tenders, hot sauce and blue cheese crumble.
Chicken Corn Chowder with Sweet Peppers
Amp up the colour contrast with diced red pepper, fresh corn kernels or chopped chives.
Chicken Tortilla
Up the authenticity with tortilla strips, sour cream, queso fresco or avocado.
Classic Chicken Noodle
Garnish with chopped parsley or a parsley sprig for a pop of flavour and colour. Add rotisserie pulled chicken or fried noodles for culinary flair.
Harvest Butternut Squash
Amp up the flavour with toasted pumpkin seeds, butternut squash frites and a dollop of crème fraîche.
Hearty Beef Chili with Beans
Balance the spice with sour cream or shredded Cheddar. Brighten the bowl with scallions, green onions or chives.
Loaded Baked Potato
Re-load with Cheddar, sour cream, bacon, green onions, chives or waffled fries.
Sautéed Mushroom and Onion Bisque
Add key ingredients like sautéed mushrooms, fried or diced onions or leeks.
Southwestern Vegetarian Chili
Top with fresh avocado and tortilla strips, sour cream and minced cilantro for authentic flavour.
Tomato Bisque with Basil
Add indulgence with sour cream, tomato concasse or fresh basil.
Vegan Vegetable
Add freshness with julienned carrots, diced smoked or sautéed tomatoes, and roasted red peppers in balsamic syrup.
By Alison Kent