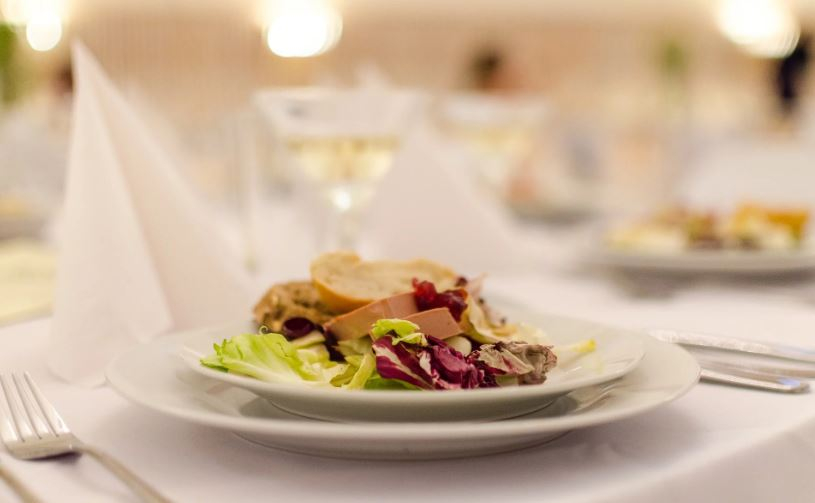 Joanne Rosiana, Account Manager for Browne & Co., says tableware is critical to building a good first impression—especially if it is a new restaurant hoping to distinguish itself from the established competition.
"A lot of times, operators put dollars into the back-of-the-house, which is of course fine. But when it comes to the front of the house, they're cutting their budgets and that really reflects in the ambiance and in the eyes of their customers."
Make a Good First Impression
Tableware, and what it says about your restaurant, is what Richard Beeksma, General Manager of s.t.o.p. Restaurant Supply in Kitchener, calls the "framework" of the food and the dining experience.
"That doesn't necessarily mean it has to be high end. In some cases, the experience can be enhanced by wicker baskets lined with paper. It's what customers end up talking about at the end of the day."
What Beeksma is referring to is the context and a customer's expectations: put yourself in your customers' shoes as they walk into your restaurant and toward their table. What they in fact notice first is the décor and ambiance of the larger dining room around them; that is immediately followed by scrutinizing their table and in particular the individual set of cutlery, plates and glassware that they will sit down to and use to enjoy their meal. It's a critical moment.
Forks on the left of the plate, from smaller to larger in size left to right, the knife on the right with blade facing toward the plate and spoons outside of that: formal place settings may have given way to linen roll-ups at some restaurants but an impression still needs to be made.
Eric Ross, Ontario Regional Manager for Steelite International, says that members of the restaurant and hospitality industry would do well to recognize this moment.
In terms of making a positive first impression, glistening cutlery and sparkling glassware will go miles toward building a good relationship with a customer, no matter what the level of dining establishment.
"This initial delivery is a chance to 'wow' customers," Ross continues. "Whether casual or upscale dining, the tone of the customer's experience will be set with the delivery and service of the food that the kitchen prepares."
Don't Underestimate the Importance of Tableware
The problem for even seasoned restaurateurs is that the smallwares and table-top get left to the end in a design plan or refurbishment, says Beeksma.
"Then the money runs out. Somebody may have the best of intentions but the budget goes and it gets clawed back at table-top, china, and glassware. It then comes down to what's in stock that can be quickly put in place."
The tendency, Ross describes, is for restaurateurs to invest in back-of-house improvements or larger scale dining room renovations to the detriment of what might be needed in front-of-house. The old china still works, so why change it?
"The problem is that improvements and changes take place in the facility or restaurant, but the tabletop presentation stays the same. Like many things in life, products get tired looking and at that point need to be replaced," Ross says.
According to Ross, white china remains popular with most operators, perhaps with a defining shape for signature and special dishes.
"There is interest in earth-tone products that coincides with the current trend in comfort foods such as stews and chili. Squares still have a place but they are not nearly as prevalent as five years ago when everyone wanted square plates, bowls and even cups," he says.
Yet, according to Rosiana, shapes are still a way to go. "And I'm seeing more glassware mixed in with porcelain too, in terms of trends," she says.
Whatever you choose, industry experts agree that you get what you pay for, with price-point-either a $0.75 fork or one costing $5.75-determining the quality. Take the time to find the proper product that suits your menu and budget.
Beeksma says the market has become very competitive and offers more products than ever before: catalogues that were once 60 pages are now 160 pages.
"Top chefs are creating their own shapes and these are being picked up by some of the larger companies for distribution in the mainstream."
Buy Quality For The Long Term
Given the plethora of choices, it's important to recognize that you will continue to find better-quality products still on the market many years after initial purchase, while products of lesser quality are often no longer available.
Durability is key too, Rosiana points out. Breakfast, lunch, and dinner, restaurant tableware gets a big workout everyday and it needs to have the endurance. That often means using a vitrified substance in which a porous surface is fused with a solution through heating.
"You want to look for a plate that is fired at very high temperatures for a long time and has a very strong glaze applied. It prevents dishes from looking worn over a period of time."
As for cutlery, understanding that flatware might be 18 percent chrome or 18/10 with 10 percent nickel is important, Rosiana adds. Nickel in your flatware makes it more resistant to staining and corroding and provides brightness and long-lasting shine despite years of dishwasher pounding.
Know Your Customer
Beeksma adds that "restaurateurs want something that feels good in the hand but that isn't even noticeable. They want it to blend in, have a good price, and be durable."
When all is said and done, understanding who your customers are, whether the younger crowd or the baby-boomers, will in good part determine how you are going to set your table, Rosiana says.
"You want your customers to feel comfortable and stay longer, maybe over coffee and dessert. That's going to help with your profit. Invest in the front-of-the-house like you invest in the back-of-the-house."