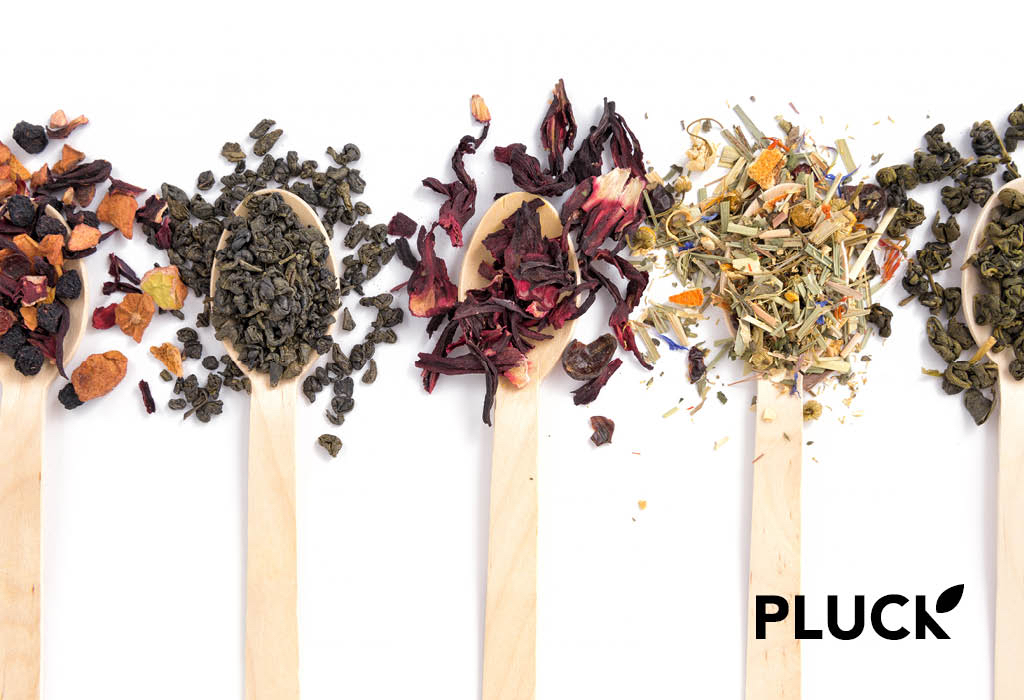 "Tea lovers unite! Demand great tea!"
It's a rally cry from Jennifer Commins for a restaurant beverage that is seeing growth – and still has great potential to boost margins. The Toronto-based Commins, who founded and operates Pluck Tea, has a childhood steeped in the calming, relaxing beverage.
 
"I had British parents who loved tea," Commins says. "I drank four cups a day growing up." 
Make tea more popular 
Despite its popularity as a hot drink, she had trouble finding good tea in restaurants starting about a decade ago when the coffee industry was booming with espresso-based drinks. She describes a dusty tea bag leaning up against the side of a scratched-up metal tea pot with maybe a lemon and a paper doily. "It needed to be fixed," Commins says. She left her gig in design and Pluck Tea, a small batch loose-leaf tea business, was born. Tea in the retail sector was seeing improvement with the likes of David's Tea, but Commins says it was incongruous with what was – or wasn't – happening in restaurants. Commins took a tea sommelier course at George Brown, and it led to getting to know people in the tea industry. She took the plunge in 2012 and started Pluck Tea. From its first appearance in restaurants in the GTA, Pluck Teas are now served across Canada. 
After an expensive meal, the tea offerings were mediocre at best, according to Commins. It was commodity tea, likely, but Commins says the execution was the real culprit: pouring the water into the pot with a tea bag sitting on the saucer as it travels to the customer's table results in the water being much too cool to make a proper cup of tea. The rule that was being lost was a basic one, says Commins: "You always add water to tea, never tea to water."  
Great ingredients responsibly sourced
But first, you have to start with great tea leaves. Pluck sources its teas ethically and directly from certified tea gardens and brokers who work with those gardens. Like the evolution of the sourcing of coffee and chocolate, teas are also sourced in fair trade relationships through organizations like Ethical Tea Partnership, that ensure proper wages and quality of life for the farmers and workers in the industry in the tea's respective country of origin. For a lot of restaurant customers, responsibly and ethically sourced ingredients—especially those not grown in North America—are important. "From garden to cup, there is traceability in place and full transparency," Commins says. The word "pluck" refers to the harvesting of tea. A pluck usually consists of two leaves and a bud. "It's the very beginning of that cup of tea and is the first measure of quality," Commins says. 
Tea doesn't discriminate. The single plant, Camellia sinensis, is responsible for black tea, white tea, green tea or oolong tea. It's all the same plant. Green tea can have more astringency and what Commins calls "oceanic" flavour notes. Oxidation of the green leaves, however, results in a more tannic black tea with a bit of maltiness. Add to that the notion of terroir that is well known to wine lovers: it's part of good tea too, she says. "Altitude is a huge predictor or flavour. When we're looking at teas that are grown thousands of feet above sea level, they grow slower because there's less oxygen and there's less heat. The flavours tend to be more concentrated." You likely will not find that in the paper envelope of common grocery store breakfast tea. "An assam tea from sea level in India compared to an assam tea grown 3,000-feet above sea level will be very different," says Commins.
Though it is grown thousands of miles away, there can be a local element to tea. Pluck, for instance, uses Ontario ingredients—lavender, lemon verbena, mint from Prince Edward County; cranberries from Muskoka and grape skins from Niagara—in their teas. "That reflects trends in the food industry, including customers' desire for locally grown food." 
Boost the bottom line
Did tea disappear and come back? Sort of. Teas were popular and they declined somewhat at the retail level. Commins says the current renaissance includes different tea shops and much more informed tea customers. "Today's tea shop is better marketed and very innovative," according to Commins. That could include bubble teas and Taiwanese teas and non-traditional teas, she says. "We don't have tea houses like in the United Kingdom, but there is some very interesting tea culture popping up." And that interest is an avenue for restaurants to pursue: restaurants that don't leverage premium tea are leaving money on the table. "It's a time of increased minimum wage and a time when more people are talking about wellness. There's a lot of money to be made with a premium tea program," according to Commins. "A cup of premium tea can be a dollar or two more, but the cost per serving is maybe only ten cents more," she adds.  
Commins says that every restaurant can customize a tea program to meet its needs. Bagged tea service is ideal for a large busy restaurant that serves quite a bit of tea. "There is a custom tea-bag process available. It says to the customer that the restaurant has taken the time to source and make proper tea," she says. The traditional tea pot option is water poured over the tea and it's brought to the table with a tea cup on the side. "It's a beautiful, elegant and simple presentation." As for a loose tea program, it can be cost effective but needs a process put in place. Like French press coffee, there are also tea presses that are beautiful to look at and do an excellent job of making tea. "Customers are often amazed at how big tea leaves are when they unfurl. It's like dinner and a show," she says with a laugh. And in hot weather, iced tea is an "ever-expanding trend," she says. It's an alternative beverage, one for people considering wellness; iced tea has 20 percent of the caffeine in coffee and zero alcohol. "It can be profitable too. With the right execution, glass and garnish, you can sell that for five or six dollars." 
Commins provides the motivation to restaurateurs to give tea its proper due as a beverage that can help the bottom line and satisfy customer looking for healthy drink options. 
 
"Tea can play a significant role in boosting restaurant margins," according to Commins. "Stop sending water out to people. Make it an unsweetened ice tea, for instance. Just stop with the barely hot water and lemon."