How to Design a Takeout Menu with MustHaveMenus
With takeout as the only option for hundreds of thousands of restaurants during this health crisis, it's important to have a to-go menu that's optimized for your food and your restaurant. MustHaveMenus, an online design tool for restaurants, makes building one quick and easy.
They have hundreds of professionally-designed takeout menu templates — for both trifold and half-page — that restaurants can customize in moments with their intuitive v3 editing software. If you run into any questions, you can simply hop into a chat window with one of their friendly and experienced customer service reps. They'll help guide you through the process from start to finish, and give you best practices for takeout menus and more. 
To help combat the crisis facing restaurants, MustHaveMenus also put out a Coronavirus Response Kit with all their latest templates for takeout and delivery. It also includes helpful guides for pivoting overnight to a takeout business model, plus creative ideas and ready-made marketing materials to get the word out.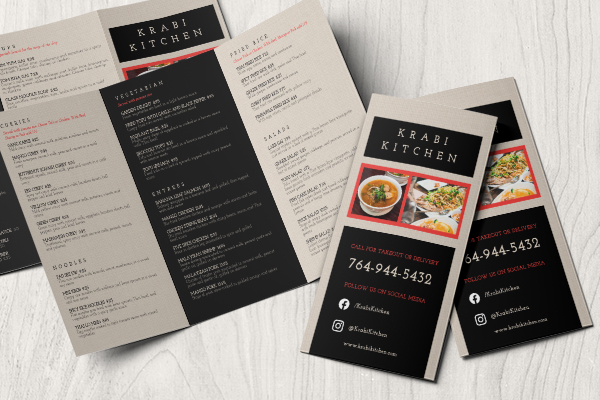 MustHaveMenus' Free Plan comes with unlimited access to their library of templates and design features, plus professional printing and social media marketing. Right now, they are offering their Pro Plan for just $12.95 a month (If you're a member of Brand Points Plus, there is a special offer for you!  If you're not a member, talk to your sales representative about how to join). That includes access to high-res downloads, removal of watermarks, organizing folders and more.
We recommend you use the software to design their menu, get a PDF file and send it to your local printer or Staples location to have it printed.  This will save on shipping and duty from the United States.