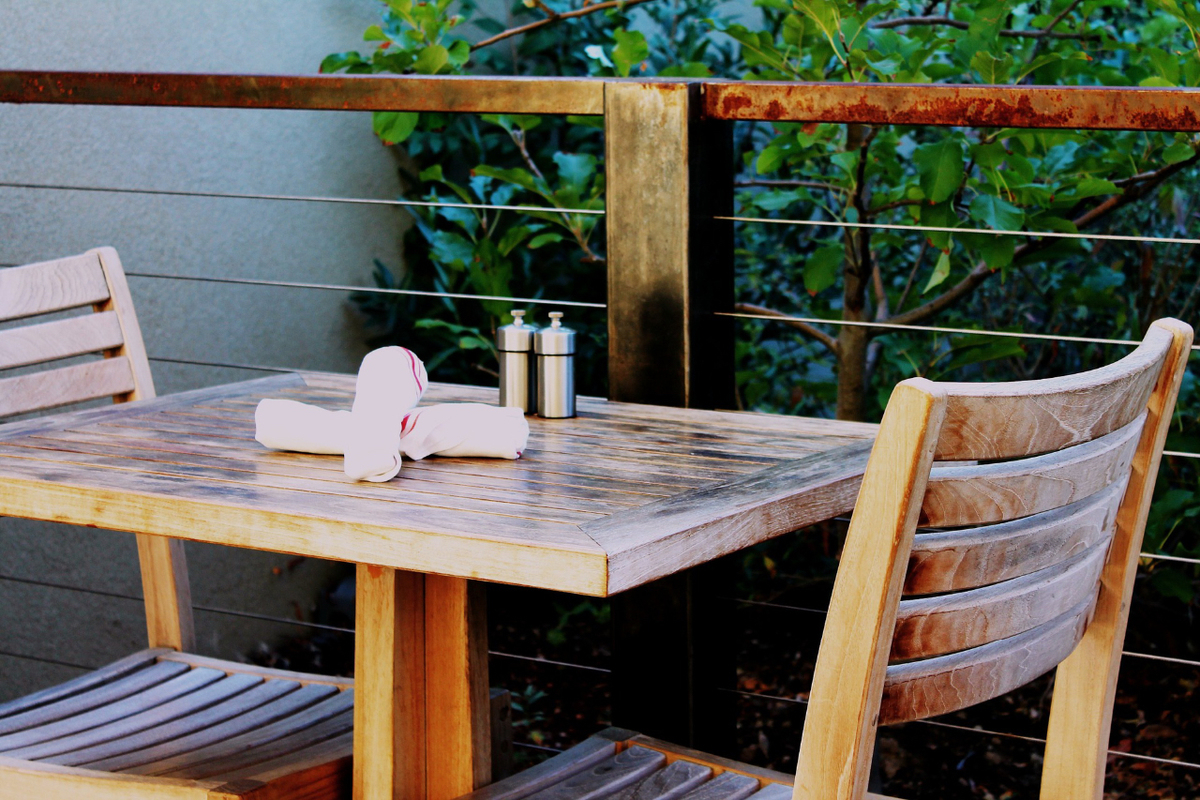 1. Keep it clean (including the furniture)

2. Seating: have enough, and make it comfortable
Not only should seating be comfortable, it should be durable. Consider stackable chairs if space is an issue. Furniture can be brightened up with some cushions or small pillows.
3. Umbrellas or shade will protect guests from sun and rain
Fans and water dispensers will keep your customers hydrated and cool during warm days.
4. Make it attractive, reflecting the atmosphere of your restaurant
Simple, inexpensive ways to upgrade your patio could include twinkle lights, small centerpieces, or small trees and flowers (read more about plants in tip #10). Whatever décor you choose, keep it in line with a theme that reflects your menu.
5. Have patio dining open during later hours
With longer summer days, guests like to eat into later hours of the evening. To help with ambiance and ease of reading menus after sunset, string lights around your patio or have tiki torches and candles.
The temperature tends to drop as the evening goes on (and if you intend on keeping your patio open into the early weeks of fall), so be sure to offer a way for guests to stay warm and comfortable. Patio heaters, tabletop heaters or a fire pit are all simple ways to battle colder temperatures and keep guests happy.
6. Keep insects and critters at bay
Discourage guests from feeding squirrels or birds. Bug zappers and candles will help to repel insects (though if possible, try to position the zapper out of the sight; the light and noise may disturb guests).
7. Set up an outdoor bussing station for staff convenience
Quick things like water refills, cutlery, extra napkins and condiments will be easily accessible.
8. Entice passersby with the power of smell
Outdoor barbecue, for example, grabs the attention of prospective diners.
9. Market to large crowds (and be sure to accommodate the higher number of guests)
Patios are a great way to add extra space that you may not have in the formal dining area of your restaurant. Have large tables to welcome groups, and feature a special patio menu with share plates and platters.
10. Add plants, small trees, or flowers
They'll give a fresh, healthy impression of your establishment. If space is limited, planters can be set up along the perimeter of the patio. Take it a step further and spruce up blank walls with a vertical garden.