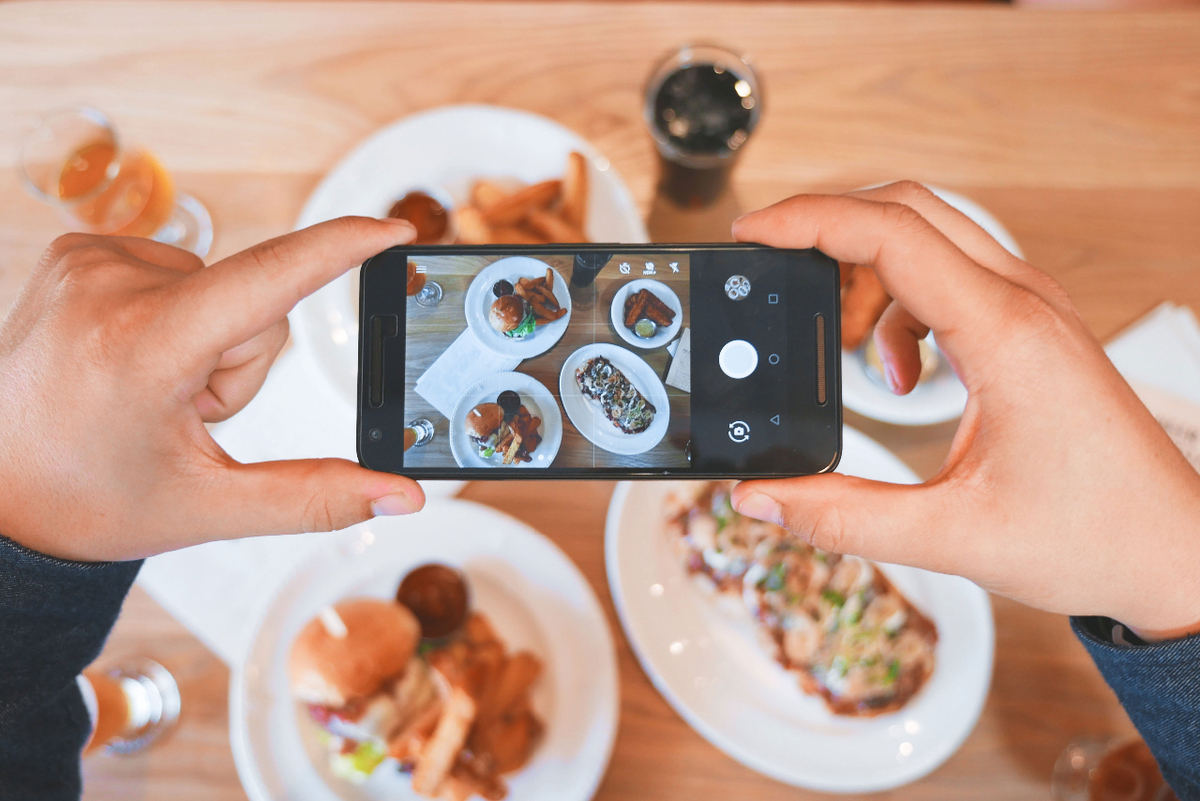 As long as you post on social media, whether it be Twitter, Instagram or Facebook or a combination of any channels then you're good, right?
Not necessarily! Posting is a great start, but engaging your followers is how you create strong brand awareness, encourage repeat visits from loyal customers, and attract new guests to your establishment.
What is social media engagement anyway?
It's not about interacting with every single customer. It is about building relationships with your customers over time, much like we do offline.
Social media is where people connect, relate and learn from each other and businesses alike.
How can you increase your social media engagement and promote?
There are hundreds of ways to grow your business using your social channels; we're sharing ten that you can implement today.
1. Post frequently, when your followers are most active
Check the analytics of each of your social accounts to learn when your followers are most active, their basic demographics and more. You can do this for the major social platforms. 
You'll discover valuable data that can help shape your posts to your target audience in terms of content, timing, and type of post (video, photo, etc.).
Social media is like a plant, you have to keep "watering" it (with content) to grow your audience and increase engagement. The more accurately you can do this, the better it'll be for business.
Sweet & Sticky Inc. posted this soup suggestion at 3:34 PM, right around the time their followers are wondering what to make for dinner. 
Posting a delicious entrée photo at a similar time will help convince your followers to skip making dinner altogether and go out to eat at your restaurant instead.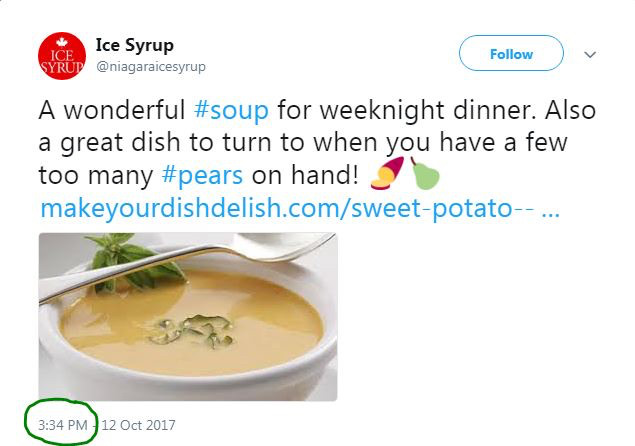 2. Invite followers to join the conversation
One of of the best ways to drive engagement is to ask your following a question.
Conversion shouldn't always be the goal of your social channels. Engagement in itself is just as important; your followers are a community, and people enjoy sharing stories and offer thoughts and opinions.
Here are a few things you can do to get the conversation started:
Pose a question alongside a photo, or just as a post on its own
"Local or organic? Why?"
"We're serving up our homemade macaroni and cheese this chilly Friday afternoon. What is your favourite winter comfort food?"
"It's the first day of summer! How are you celebrating today?"
Ask for photo shares ("Asparagus season is here! Show us how you're cooking Ontario asparagus at your house.")

Use Twitter Polls to collect some insight, or use it just for fun
"Which of these two menu items would you prefer to see as part of our Canada Day special?"
"Help us settle this debate once and for all: is a hot dog considered a sandwich?"
Sapsucker asked their Instagram followers how they're celebrating the long weekend as the caption to a beautiful photo of their Sapsucker Lemonade (with a recipe, too!):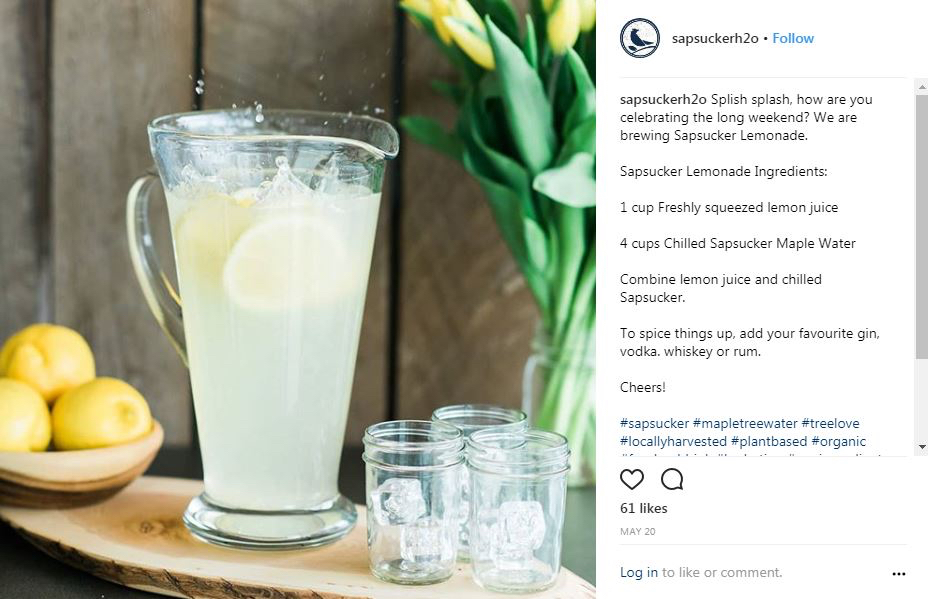 3. Show appreciation
Social media is a two-way interaction, not just a one-sided conversation. 
If you're looking to increase foot traffic to your restaurant and strengthen (or maintain) the relationship you have with your customers, showing your customer appreciation on social media is a effective way to reach a wider audience above and beyond the four walls of your operation.
Here are a few ways to let your customers know that you're grateful for their business:
Reply to a customer who posts a photo of your product - Use "@" to reach more of their followers
Give a shout out to customers celebrating an event at your restaurant (with their permission, of course). Maybe you have a group celebrating a milestone birthday or a company holiday party; ask for a group photo and share the celebration; they'll be likely to share it on their own pages
Please and thank you go a long way; if a customer expresses how much they enjoyed a meal, say thanks!
Offer an exclusive deal to followers of a certain social network
Vancouver Island Salt Co. gave their Twitter followers the chance to win a branded hat and their smoked sea salt product by asking them to post a specific photo on Father's Day: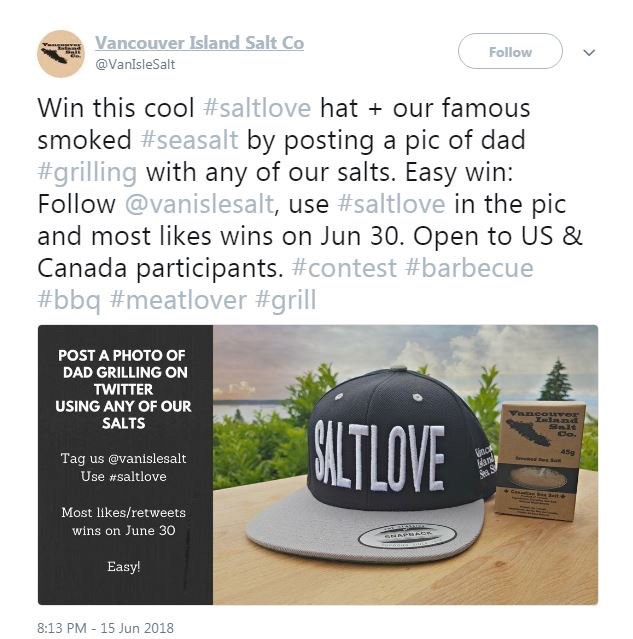 Bay Meats Butcher Shop offered this exclusive deal to followers of their Facebook page:

4. Stay connected, stay current
Whether it's around the globe, an industry event, or holiday, people love to get in the spirit and be involved.
At the Restaurants Canada show in February, Henry's Tempeh shared a post with photos of their booth and the products they had sampled (which we tried—delicious!). They tagged Restaurants Canada and let followers know to stop by if they happened to be walking the show.
5. Acknowledge mentions, questions, and yes, complaints
Whether you have a few thousand followers or a few hundred, each follower likes to feel as though they have a voice and can contribute in some way.
If one of your customers has taken the time to express a thought, good or bad, reply with a personalized message. It lets your customers know you care.
Acknowledge any complaints as soon as possible with an apology and offer to sort out the issue offline ("Message us your contact information and we'll be in touch with a solution to resolve this issue.")
When we promoted 1847 Stone Milling products on Twitter as a supplier of the Flanagan Market, they responded to the post with their thanks: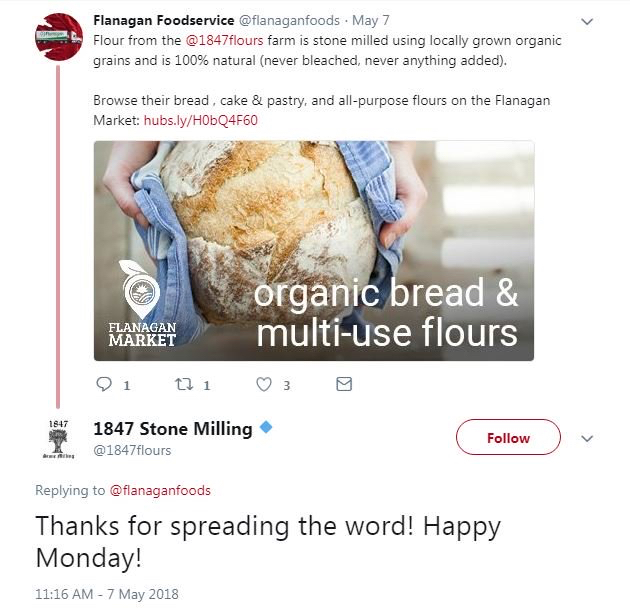 6. Promote your partners
Some ideas about giving your partners some recognition:
Post about a great time you had hosting an event together
Share with your customers how your partners have influenced or impacted your business
Thank them for their contributions
Here's an example of Rootham Gourmet Preserves sending thanks to their partner Barrie's Asparagus on Facebook, while also promoting their seasonal Asparagus Smokey Antipasto and Honey Garlic BBQ products: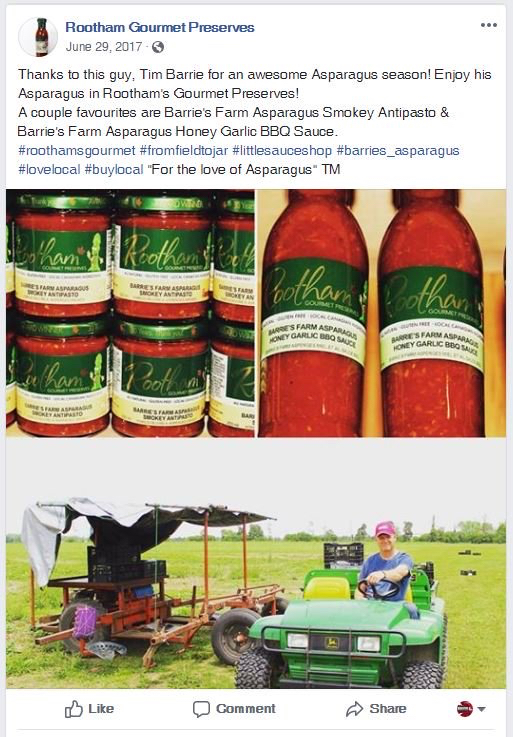 7. Use hashtags to connect
Hashtags are used to index a specific topic on Twitter, Instagram, and Facebook. Clicking a hashtag brings up a collection of all posts with that hashtag. You can now even follow hashtags within an Instagram account.
Try the following:
Create your own signature, branded hashtag
Use existing hashtags that relate to your business on whichever social platform you're using (#OntarioFood #OntarioProduce #TorontoFood)
Top Shelf Collection's use of hashtags during Game 6 of the 2018 Stanley Cup Playoffs put them right in the centre of the conversation, reaching not only their followers but a like-minded community of hot-sauce-loving hockey fans: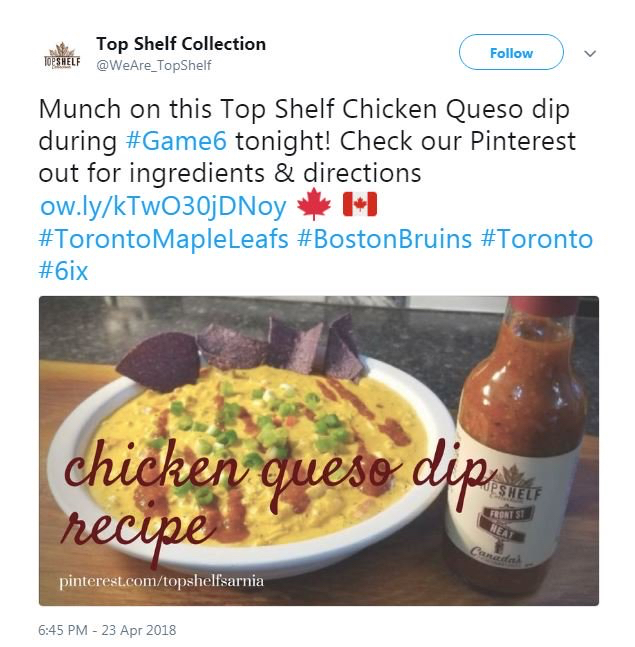 8. Post the good things happening in your community
Raise awareness about causes your restaurant is passionate about (it's also great to see the faces and personalities behind the scenes of your establishment!)
Share photos of your staff participating in events. It connects you to your customers and is a way to promote your brand's reputation as giving and a contributor to the community.
We proudly shared our experience volunteering for Habitat for Humanity in 2018 and 2017 on our social channels (you can find that blog post here):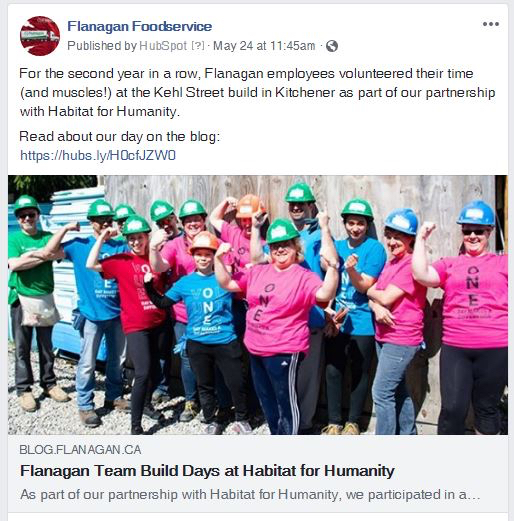 9. Ask for feedback
Test a new product idea and ask what your followers think. If you can't decide on something, let your followers choose!
Pose the question using Twitter Polls, ask followers to answer in Instagram comments on a post, or in the comments of a Facebook post.
10. Host a "Chat with [Your Business Name Here]" session
This is an exciting method of generating engagement, especially on Twitter. Post and tell followers that for 15 minutes, they can ask you anything and you will reply.
Why?
It helps people connect with you on a more personal level and encourages a high level of engagement from your followers. It's fun to participate in real-time.
Try hosting a live video on Instagram and engage with your followers who are "tuned in."
If you have suggestions about growing your business using social media, we'd love to get your feedback—share your thoughts in the comments below.
This blog post was originally created and published by Local Line. Vendors listed in this post can all be found on the Flanagan Market, though their delivery cities may vary; not all suppliers on Flanagan Market deliver Ontario-wide. If you have any questions, contact flanaganmarket@flanagan.ca.