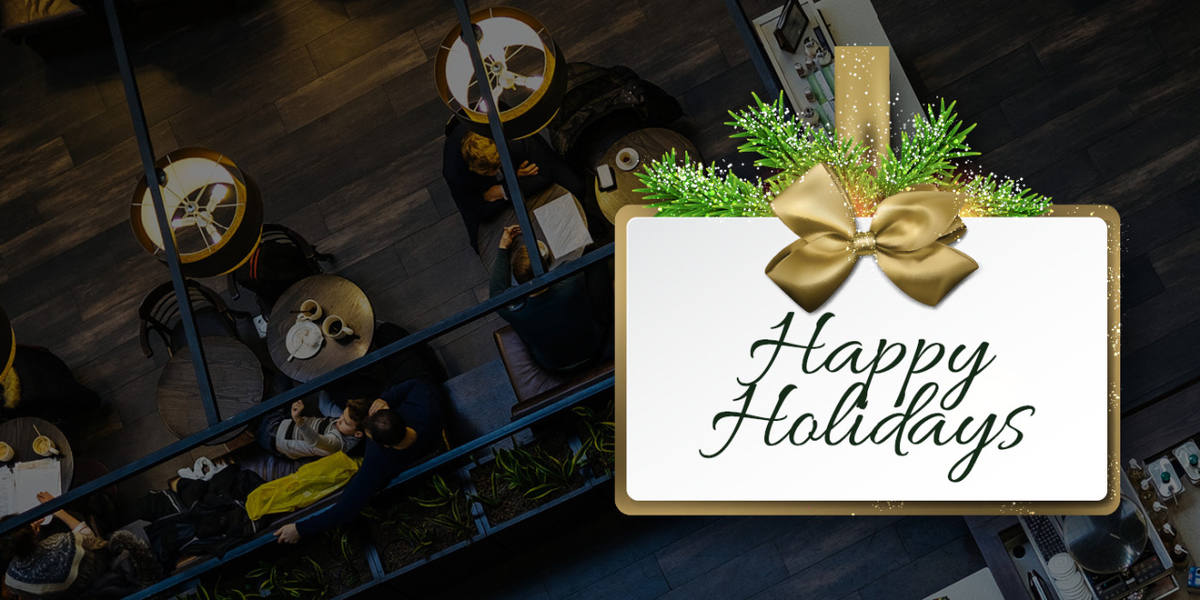 If it is in fact true that it is better to give than receive, then gift cards must be at the top of a restaurateur's wish list. These simple plastic cards could be an important marketing tool—and revenue generator—at this busiest of commercial periods on the calendar.
Dave Ball, Divisional Sales Manager at Flanagan Foodservice, sees gift cards as a holly, jolly way to make the season bright for several reasons:
1. Gift cards raise the stakes
First and foremost, he points out; research indicates that people will spend more on a gift card than they will on a gift. While they might buy a $50 present, they will likely raise the stakes and buy a $75 or even a $100 gift card at a restaurant, the card itself being relatively unsubstantial to hold. "They don't want to seem cheap," says Ball, "when it comes to choosing an amount to give."
The established and classic printed gift certificates, though they can do the job, just don't have the aesthetic appeal and cannot outperform debit card-style gift cards, he adds. "The more professional it looks the more money they are going to spend with you."
The vagaries of human nature also come into play in a positive manner—and that can play right into a restaurant operator's hands in terms of immediate cash flow. It turns out that many restaurateurs and the folks behind the scenes who run the business end of things realize that 17 percent of gift cards are never redeemed.
"That's massive," Ball says. "We know these numbers from a top-rated Canadian restaurant franchise. But even if a small restaurant did $2,000 in gift cards, you are looking at nearly $350 for doing nothing."
2. Boost your slower seasons
Add yet another gift beneath the tree: if the cards are purchased as festive and holiday presents in the hustle-bustle of a busy December, the delay when people redeem them could prove to be a boon to the restaurateur who might see a bump in sales later in January and February when business is typically slower.
And when they do get around to redeeming them, patrons often find themselves using the full amount of their gift card—and then some. Customers generally buy additional food and more expensive dishes than they might otherwise; compound that with the potential for increased sales of beverage alcohol, and the result can be some healthy extra revenue in winter's gloomier months.
"Most restaurants see a rapid January decline in sales," Ball notes. "However, gift cards can bring people into the restaurant in slower times. You are still winning as people go over their gift card value and spend more, perhaps for the purchase a $60 bottle of wine they wouldn't ordinarily select. They up-sell themselves."
3. Introduce gift card recipients to your restaurant
Even with the excitement of the holiday season taken out of the equation, the gift card offers an additional benefit. If using the card represents the first time the guest has been to your establishment, it is a perfect opportunity for you to show off what you can do—and in doing so, win a new customer who says, "Wow! That was great; I'm going
to come back."
4. Appreciate current customers
Gift card sales can beget gift card sales, according to Ball, and they can also be used in
customer-appreciation situations, too. It is this flexibility and versatility which sometimes goes unremarked. As well, they can be used in a wide range of operations, from fine dining to coffee-shop fare.
5. Offer cards to unsatisfied guests
Though it is an ancillary benefit (and one that certainly is not high on the wish list), gift cards can be used by managers to smooth ruffled dining feathers when a guest has not had a fully satisfactory dining experience.
It's yet another advantage: at virtually any level of dining or restaurant business, the gift card has value. Ball maintains firmly that there is not a restaurant or hospitality business out there that can say that a gift card would not work for them.
He points out that in probably 75 percent of cases, touch-screen POS systems make the gift card option simple and convenient with perhaps only a software upgrade. That also permits better tracking than paper certificates.
"A gift card is a win-win scenario," Ball states. "Dollars in the restaurant business can be extremely tight, and gift cards mean that you are getting paid first. There are not many other scenarios in hospitality where that happens."