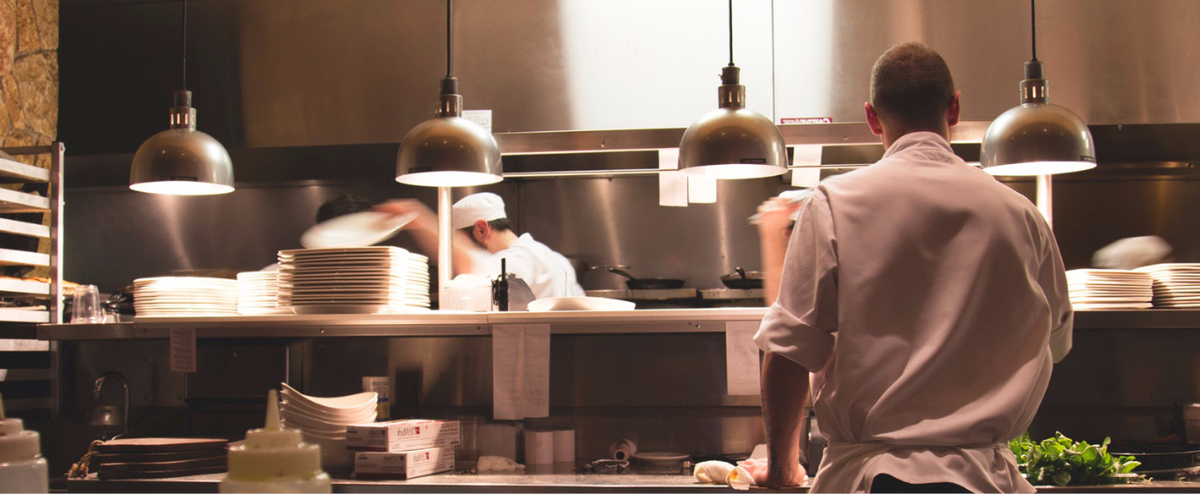 "Be consistent." "Be hands-on in there, every day of the week." "Don't take your customers for granted."
Those are just three suggestions in a treasure trove of "recession-busting" advice offered by Flanagan district sales managers Andre Butler, Shayne Keary, and Nancie Lillie.
These three foodservice industry veterans bring decades of experience to their roles; all three have spent significant time working in and managing restaurants. Butler and Keary are certified chefs. Keary ran a chain of restaurants, Butler owned a restaurant in British Columbia, and Lillie was general manager of a franchised restaurant. They know the business from the kitchen to the patio, and they also represent the combined expertise of the Flanagan Foodservice team.
When we asked them about succeeding in tough economic times, all three were quick with examples and advice about surpassing survival to reach real success, even when the economists are warning of doom and gloom. After all, even economists have to eat somewhere.
Target "stay-cationers"
Andre Butler is District Sales Manager for Central Ontario. He points out that the impact of the downturn is not the same in all areas—restaurants in some districts, such as the Southampton and Port Elgin communities, seem to be doing just fine. He attributes this to the businesses' success in attracting customers, including Americans, who are looking for inexpensive getaways. A lot of his territory is tourism country, and local restaurants are succeeding by cashing in on the economizing "stay-cation" concept, which sees people spending their holidays much closer to home. In Collingwood, for example, "a couple of our customers had the best winter they've ever had." Butler believes this kind of success can set an example for other restaurant owners, who may need to re-focus their marketing to a more localized base.
It was Butler who offered the "be consistent" advice as well, insisting that while there are ways to cut your costs, customer service and food quality should not be on that list.
Maintain quality
Shayne Keary underlines that point. The biggest mistake restaurants make in leaner times is to cut quality.
"Don't," he says, tersely. "That's a huge mistake. You're cheating your customer."
Keary also recommended that restaurant owners and managers become even more hands-on in tougher times. "The more hands-on operators are doing well," he said, "those who are in there, every day of the week." Being on site allows managers to monitor labour costs, inventory levels, waste control and even "open to close times." He pointed out that there are restaurants opening at 7 a.m., when the first customer usually arrives at 8 a.m. That's needless waste. "When I operated restaurants, we always had a check list, indicating the time to turn on the lights, the ovens, and so on. Each of these costs seems small," he admits", but they add up to better margins.
Control waste
Nancie Lillie thinks that monitoring wastage is crucial to cost control. "Control your waste," she says. She recommends keeping expensive ingredients locked down, and using pre-weighed-out portions.
It was Lillie who said, "You can't take your customers for granted." And she stresses that this is especially important in difficult economic times. Customers are less experimental: "I may not try something new and risk wasting money. I'm going where it's tried and true." Lillie recommends that managers aggressively seek feedback from customers by visiting tables or using comment cards.
These comments were just the tip of the iceberg from our in-house experts.
Keary pointed out that restaurant managers can become focused on trying to save money on food costs. That's dangerous, he says. It can affect quality, and it also misses the fact that food costs are usually around only 35% of overall business costs; 65% goes to labour, heat, hydro, telephone and other expenses that also must be monitored carefully. He notes that there are often obvious savings ignored by owners – using high efficiency light bulbs, or even fixing a constantly-running toilet.
Change up your routine

Offer lower-priced menu items
Butler encourages operators to develop new incentives to attract customers. He points to high-end restaurants that are advertising some less expensive options, such as a place known for pricey Sunday brunch that is now also serving enchiladas as a lower-priced option. "It worked," he says. "In upscale restaurants, I would be mixing it up a little bit more. They have to get creative."
Explore new channels
Lillie points to some restaurants that are creating home delivery options. She says that this allows diners to enjoy the same main dishes they love, while providing their own beverages, desserts, and so on, and thus cutting the costs. She notes that the kitchen is already staffed, and if customer counts are a bit low, service staff and others can even be used to do the delivery... which creates a continuity for the customers "if the person bringing the food to your door is the waiter who serves you in the restaurant." "Home delivery," she says, "can be very advantageous."
Treat your regulars
When regular customers come in, she says, treat them as special guests. Too many places save the best seats for newcomers, or delay serving regulars because the wait staff are sure the known clients will come back. Instead, says Lillie, "you really have to make sure you're making it a great experience for those people you can count on coming in regularly... let them know you appreciate their business."
Bottom line, says Keary, is that customers continue to look for "good food, a fair price, and good portions." Cutting quality adversely affects all of those, and that's not the place to economize.
Neither, he says, is the physical environment a place to cut corners. Appearance matters, and many of the things that make for a top-notch experience cost little or nothing: cleanliness, neatness, a bright and well-cared for facility. "Customers really notice," he says.
The good news is restaurants and foodservice outlets that are attending to detail, being creative, and treating their customers well are flourishing, whatever the economists may say. For more great advice on how to control costs, attract and keep customers, and thrive in any economic environment, talk to your Flanagan sales representative.
By Paul Knowles