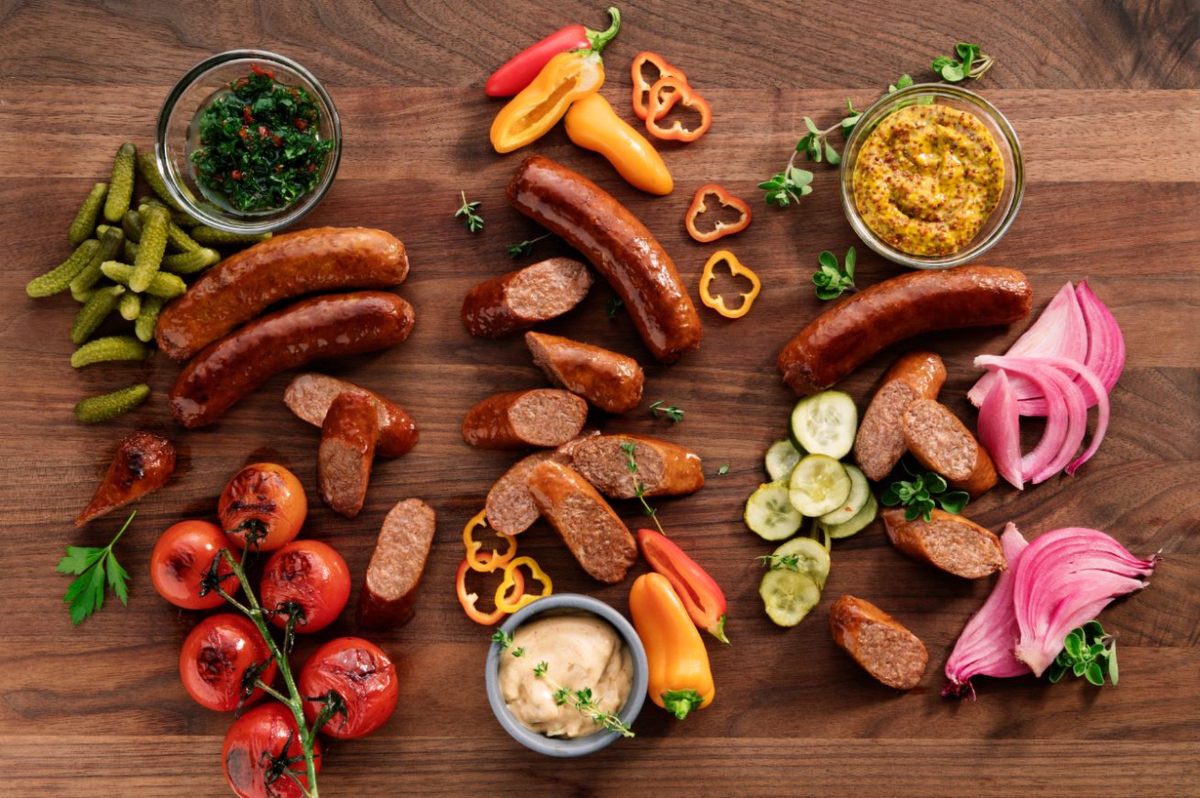 Plant-based protein alternatives are not only trending, they're now included on the Canada Food Guide. With suggestions on how to eat more protein foods that come from plants, Canadians are encouraged to plan a few meatless meals per week.
Nielsen—a leading global market research and information company—reports that 43% of Canadians are making an effort to have plant-based proteins a part of their diet. Though 83% of Canadians are still committed to meat consumption (according to The Globe and Mail), over the past decade Canadians have decreased their red meat consumption by 25%.
Plant-based dining is more than simply replacing meat with vegetables. Today, it represents a wider emphasis on sustainability. 
Enter Beyond Meat®. 
It started with the Beyond Burger®
When A&W listed the Beyond Burger in Canada summer of 2018, they soon faced a  shortage that lasted until October 1 of that year. Evidently, Canadians were—and are—ready for a change.
Beyond Meat's plant-based burger offers that alternative. It's about as close to a real patty as you can get when it comes to taste, look, and texture. (They use beet juice to get that "red meat" appearance.)
When it comes to sustainability, the Beyond Burger delivers. According to a 2017 report by Beyond Meat, their plant-based patties are more sustainable to produce than a standard beef patty. Their product's production system generates 90% less greenhouse gas emissions, requires 46% less energy, and has over 99% less impact on water scarcity than a quarter pound of beef.
Shortly following the success of the Beyond Burger, Beyond Meat created the Beyond Sausage. As one of 50 products on TIME's 2018 "Best Inventions" list—an annual collection of items that help shape the way we live, work, and eat—the Beyond Sausage is the world's first plant-based sausage.
Introducing: Beyond Meat Sausage®
Beyond Sausage actually looks, sizzles and satisfies like pork sausage. It packs all the juicy, meaty deliciousness of a traditional sausage, but comes with the upsides of plant-based meat:
16 g of plant-based protein
43% less total fat and 38% less saturated fat*
No soy or gluten
No GMOs (Non-GMO Project Verified)
Kosher Certified
*On a per cooked link comparison of Beyond Sausage® and the leading brand of brat-style pork sausage.
What is Beyond Meat Made of?
Beyond Sausage® is made from a blend of simple plant-based ingredients that are applied in fresh ways. Peas, fava beans and rice provide the protein. Trace amounts of beet lend to its meaty color, and coconut oil gives it that mouthwatering juiciness. And it's all wrapped inside a remarkable 100% plant-based casing derived from algae.
It is available in three delicious flavors:
Original Bratwurst
Sweet Italian
Hot Italian
 
Beyond Meat Ingredients and How it's made
The process is quite similar to traditional animal-based sausage. In fact, they've teamed up with sausage-making experts to capture the essence of this versatile meat. Similar to traditional pork sausage, Beyond Sausage® is made with a coarse (plant based) protein, mixed with natural flavors and spices, sealed in a plant-based casing.
Unlike traditional sausage, their meat is made from a blend of plant-based protein, sourced from peas, fava beans, and rice.
Vegan casing
The casing is made of calcium alginate which is obtained from algae. It is a natural product that is clear, flavourless, and 100% plant-based. Alginate is used in some fresh turkey and seafood based sausages to deliver a similar pop and texture as animal-based casings.
Peanut, soy, gluten and nut-free
Beyond Sausage products do not contain peanuts or tree nuts and are both gluten and soy free. You won't find any hormones, nitrites, nitrates, soy or gluten in their sausage either. And, all of Beyond Meat's ingredients are
non-GMO.
 
How it compares
How does Beyond Sausage stack up? This comparison chart is based on a per cooked link comparison of Beyond Sausage® and the leading brand of brat-style pork sausage:
| | | |
| --- | --- | --- |
|   | Beyond Sausage | Pork Sausage |
| Protein (g) | 16 | 14 |
| Saturated fat (g) | 5 | 8 |
| Cholesterol (mg) | 0 | 60 |
| Total fat (g) | 13 | 21 |
| Calories | 210 | 260 |
| Sodium (mg) | 540 | 680 |
Cooking Beyond Sausage®
Beyond Meat® recommends the following when cooking Beyond Sausage®:
Pan
Heat a non-stick pan to medium to medium-high heat
Add sausages and cook for about 6 minutes, turning frequently
Cook until sausages have reached an internal temperature of 165°F
Grill
Preheat grill to 500°F (when covered)
Lightly brush sausages with oil, grill for about 6 minutes, turning halfway through
Cook until sausages have reached an internal temperature of 165°F
Griddle
Cook in non-stick griddle at max temperature (about 450-475°F) setting for about 7 minutes, turn frequently
Cook until sausages have reached an internal temperature of 165°F
Roller
Place sausage on rollers and cook until sausages have reached an internal temperature of 165°F (about 7-8 mins)
Not (yet) recommended
Boiling
Microwave
Cooking from frozen
You can cook the links from frozen, but the texture isn't ideal; it loses a bit of the bite. Keep in mind that if you do cook your links from frozen, it will take about 12 minutes to reach 165°F.
You can cut the casing and cook the meat like ground pork sausage, though the meat will break down more than ground pork sausage would. It's still crispy and delicious.
Appeal to flexitarians
Though it can be a struggle to respond to those who are looking for protein alternatives, the industry is proving that it can adapt; the plant-based movement doesn't necessarily consist of just vegetarians or vegans. 
While vegetarians and vegans make up 6% and 2% of the market respectively, more than 3.5 million Canadians consider themselves to be flexitarians. "Flexible vegetarians" reap the benefits of a vegetarian diet while occasionally eating meat, poultry and fish. They may go meatless for one day, but opt for a turkey burger the next. 
This group is made up mostly of baby boomers, who bridge the gap between the mass food market and the vegan/vegetarian bunch.
That said, meat alternatives that boast both health benefits and sustainability resonates with more than just one generation. Despite boomers making up the majority of flexitarians, millennials are the key drivers in shifting toward plant-based foods. It's more than just caring about what ingredients we consume (yes, fellow millennial here). We care about the source of our food (including animal welfare), how far it travels to get to us, and what environmental impacts that travel has on our earth. 
In the last year, "Plant-Based Protein" on Canadian menus has grown 11.7%, according to Technomic. Its top dish category, "garden/veggie burger," has grown 50% in the last year; think plant patties on brioche buns with artisan cheese, avocado and a signature sauce served with kettle chips or a fresh salad. 
When it comes to serving Beyond Sausage, the options are endless.
Be unique and flavour-forward
Beyond Sausage can be enjoyed by your guests as a gourmet frank, sliced up and used in pasta dishes, or topped on pizzas. List the "sausage" as a menu item on its own, or offer it as a substitute option to appeal to all dietary preferences.
The Beyond Sausage recipes available on Beyond Meat's website include German-style bratwurst, sweet Italian sausage with bean pasta, stuffed pasta shells, and Beyond Sausage crostino.