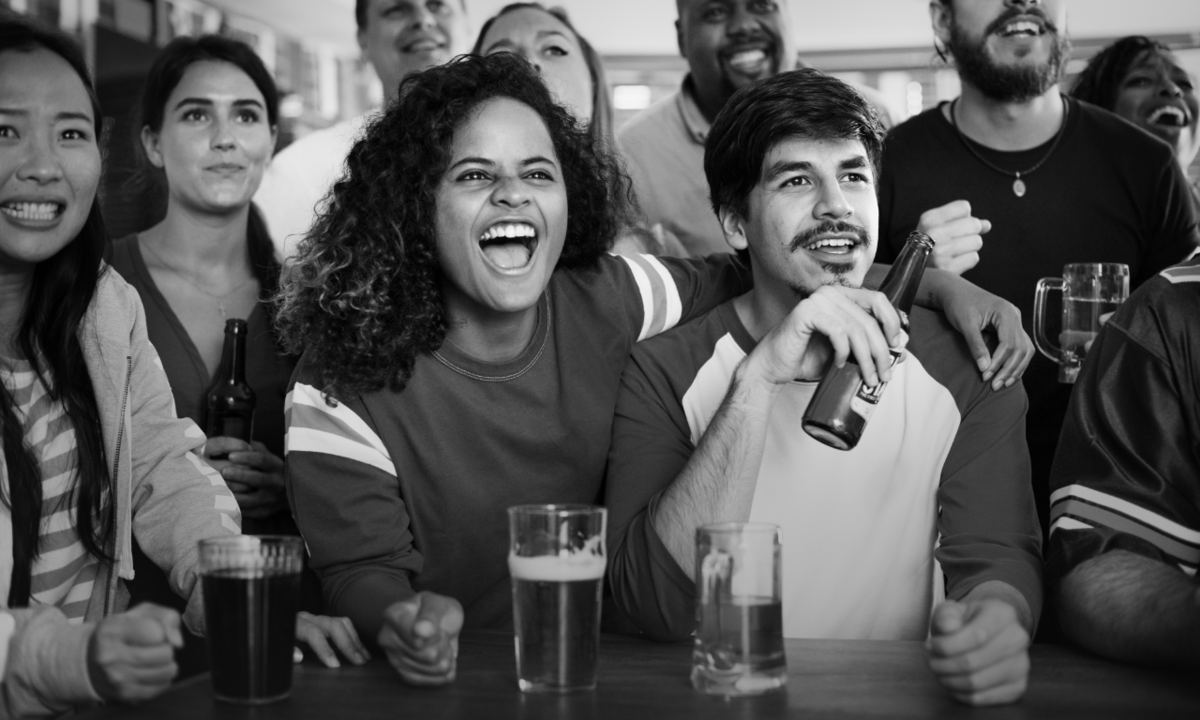 The Super Bowl and food go together like, well, Tom Brady launching one to Julian Edelman. The big game is arguably the largest single sporting event on the planet. That translates to millions of dollars in business for the city and state where the game will be played, and restaurants in Atlanta, Georgia will get a nice, tasty piece of the football pie on Sunday, February 3. However, your restaurant can share in the party even if it is located in a different time zone and a different country.
Create a party around the game
Build a stadium atmosphere at your restaurant and reap the benefits. Perhaps unlike any other television spectacle, the Super Bowl is itself a "destination" for family and friends, not just an event, says Greg Fash, vice-president of marketing at Cavendish Farms. He says your restaurant should plan carefully in order to really boost your completion percentage.
"Restaurants are uniquely positioned to create the party around the game without the work and hassle of having the gang over to someone's house," Fash says.
He paints a larger picture of the gridiron gala: it represents a perfect opportunity, by virtue of its winter-time scheduling, for Canadians to get out and enjoy a warm and exciting diversion from snow and frigid air.
"It's the first event to bring people together since Christmas and break mid-winter boredom," said Fash.
"Everyone is looking for a bit of an escape in February without waiting for Valentine's Day, and the Super Bowl is the perfect reason to look for good times with friends."
Prepare your game plan
Like a good offence, customers are anticipating a Super Bowl atmosphere that is dynamic and energetic - an experience that they just can't duplicate at home, according to Fash. Recognize before you start planning that expectations are high.
"Don't disappoint. Engage and activate the experience from the minute they arrive. If possible, schedule additional service staff to manage any special entertainment that does not involve food and beverage," says Fash.
Take a moment to select a theme around the game itself. Do some research into the location and see if there's a food or beverage that is distinctive to Atlanta, Georgia—this year's Super Bowl city.
Provide "close coverage" of your theme
If you pick a theme, engage customers immediately when they arrive and stick with it, says Fash.
"If you have premiums with the Super Bowl team logos, make sure they get them immediately and create a game-like atmosphere," he adds. "Servers, signage and games need to be high energy and consistent with the theme you've chosen. Remember that people could have stayed home and watched on their own big screen entertainment centers. That, in part, is your competition."
Fash suggests promoting the event in January, and if possible, give away door prize tickets and appetizer discount coupons that could be used at the Super Bowl party. There are many variants of pools and games throughout North America focused on the Super Bowl. "Do your homework to understand if there is a local market preference, Fash says. "Build a contest around the game that might offer a discount for declared Patriots fans, for example, on a specific platter if they're ahead at the quarter."
Another approach may be to team up with local sports associations and other organizations that may be looking for new and clever ways to fundraise and raise awareness.
"A local team or association may be able to assist you in organizing the in-restaurant Super Bowl contests in return for a portion of the proceeds. Just make sure that you're associating with adult teams or associations if the event includes alcohol," Fash says. Despite the food, for many customers, the game comes first.
It may not be enough to merely serve what is on your regular menu. He suggests special dishes that are specific to the game location. "You need to build a game-day menu. Like the famous television Super Bowl commercials, make the food memorable."
"But at the same time," continues Fash, "recognize that people aren't at a Super Bowl party generally to have big meals. They want fun food frequently. Offer appetizer specials every hour and focus on sharing platters. What is important is that you get people engaged and that you activate their experience."
Appetizers and beverages are a natural fit with friends and fun. Create shareable appetizers that offer a variety of tastes and textures which—"and this is key," adds Fash—allows a restaurant to customize for the game and will encourage multiple orders.
"Work with your suppliers to feature, or even get support to sample, new and interesting appetizers that your customers may not have had a chance to try before. It gives the restaurant the opportunity to evaluate potential for new menu additions. Linking appetizers and beverage specials throughout the evening is a natural, of course."
Regardless of the food choices, make sure your restaurant affords great sight lines for the fans (that is, your customers), Fash recommends strongly. "If you don't have enough screens consider acquiring additional ones. It's all about atmosphere."
There is a caveat, however, he notes, and that is to know your clientele and decide whether you have to divide your space between rabid fans who want a loud and raucous "tailgate party" environment and those customers who will nevertheless enjoy the game but want the spectacle to be a little more low key.
But, ultimately, with the hype of the Super Bowl and 30-second television commercials going for somewhere around $3.5 million in the U.S., low-key is going to be hard to come by for this annual sports spectacle.
The Super Bowl by the Numbers
After Thanksgiving, the Super Bowl is the second largest day of food consumption in the U.S.
More than 150 million people will watch the game
1 million: the number of residents and visitors that came through Super Bowl City, the 50th Mile and Super Bowl Experience in 2016
Economics studies pegged revenue generation at several hundred million dollars
69 million lbs. of avocados (mostly in guacamole) are eaten
With 475 locations nation-wide (U.S.), Wingstop anticipated selling 5 million wings on Super Bowl Sunday
Spectators will drink more than 325 million gallons of beer and eat 90 million lbs. of chicken wings, 14,500 tonnes of potato chips and 4,000 tonnes of popcorn.